Nashville Season 3 Episode 16 Review: I Can't Keep Away From You

Amanda Steinmetz at . Updated at .
No one will ever love you like I do. 
Rayna and Deacon's love story is not over yet. Not if Rayna has anything to say about it.
On Nashville Season 3 Episode 16, Rayna wouldn't let Deacon push her away, even though he tried his hardest.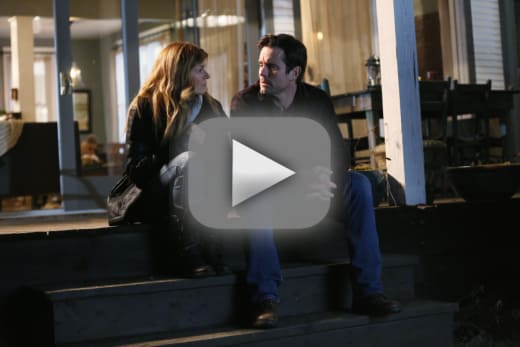 YES​, it finally happened! We finally got the long-awaited reunion between Rayna and Deacon. 
I loved every one of their scenes leading up to them making love, and I say making love because "hello" gentle music and roaring fireplace. 
I was glad Rayna wouldn't let Deacon go so easily. It seems he's always been in the position trying to convince her they should be together, so it only makes sense she would have to do it now.
Her refusal to leave him only made me love their relationship more. Rayna was smart enough to know that Deacon was just trying to push her away out of fear. 
You [Deacon] might die, but if you do, I would rather have us be together, the way we were always meant to be, for as long as possible, and if something horrible happens, well then, I would rather my girls have the opportunity to see what true love looks like. I don't ever want to protect them from that, even if it ends. You are not going to be able to protect us from the pain of this. You're just not. So let's at least experience the joy of whatever life has to offer for us right now. Please stop fighting me. Fight for us. We screwed this thing up a million times but we're not gonna do that now.

Rayna
Her speech to him was fantastic and romantic as hell! 
Maddie's excitement over their reunion was short lived as they told her about his cancer. It was sad to see her upset, but it's better that they told her now. 
Elsewhere in the episode, we saw Scarlett engage with mean people on Twitter. Why would she go down that rabbit hole? 
Thankfully, her shaken confidence didn't last long because Gunnar and Avery were ready to help her out with a new song to silence the haters. 
It wasn't my favorite performance of theirs, but at least she looked confident on that stage. Please let this be the last time we have to deal with Scarlett's stage fright. The girl needs to learn to be strong. 
She also looked pretty damn self-assured as she walked into Doctor Hottie's hotel room. *Cue single tear rolling down Gunnar's face. 
How cute was Avery's song to Juliette and her belly? They didn't have many scenes in the episode, but they were all too adorable.
Someone who is not adorable is Teddy. Dude needs to get his act together fast or he's going to lose everything. Unfortunately his way of going about things makes him look like a straight up villain.
Surprisingly, Jeff took one step toward actual emotional feelings when he told Layla he wanted to give whatever they had together a shot.
Unfortunately for him, Layla realized that she can't keep trying to change the guys she's with. 
Layla: I'm just thinking about how I got myself in the same situation again.
Jeff: What situation is that?
Layla: A relationship where I try and change a guy into something that he's not.
Jeff: Don't be ridiculous, Layla. You can't possibly be comparing me to Will.
Layla: He was incapable of loving me, and so are you.
Jeff: Layla, come on I told you I wanna try this.
Layla: Yeah, but that's just the thing. You shouldn't have to try and love someone.
She's right, but I feeling that their roles will be reversed now. Jeff actually seemed disappointed to hear her say she wanted their relationship to be strictly a business one. Perhaps he will pursue her now.
I'm not even going to bother covering Will's scenes because his character progression has stalled for long enough. This Kevin guy better help Will come out of the closet by season's end. 
I know I'm forgetting something. What could it be.... Oh yeah, I remember now: SADIE FREAKING SHOT PETE!
I know I should have seen this coming. You don't have a character buy a gun and never use it (Chekhov's gun, people!). 
We don't know for sure that Pete is dead, but he didn't look too good. 
Before that dramatic ending, we had Sadie bonding with Luke. They definitely have chemistry and I like the idea of them as a couple. I think Sadie would be hesitant just because of Rayna's relationship with him, but I don't see Rayna having an issue with it. 
I don't know what Sadie is going to do now that she shot Pete, but I hope Luke is there to help her. 
Favorite Performance of the Week: It's a tie between Sadie and Luke's duet, and Avery's song to Juliette and the baby. Sadie and Luke's voices mesh really well together. Avery's song was so heartfelt and sweet. How could you not love it? 
So over to you guys! What did you think of the episode? Were you happy Rayna and Deacon finally reunited? Do you think Jeff will want Layla more, now that she's rejected him? What's going to happen with Sadie? What are your predictions for Nashville Season 3 Episode 17?
Sound off below, and don't forget you can catch up on any missed episodes when you watch Nashville online via TV Fanatic! 
Amanda Steinmetz was a staff writer for TV Fanatic. She went into retirement in June of 2027. Follow her on Twitter.