Nashville Season 3 Episode 18 Review: Nobody Knows But Me

Amanda Steinmetz at . Updated at .
Women can have it all... if by all you mean ditching your husband and newborn baby to go record a song. 
Nashville Season 3 Episode 18 ended on a rather tense note as Juliette jetted off, leaving Avery to care for baby Cadence.
It's not so much the fact that she left, but more the fact that she failed to tell her husband.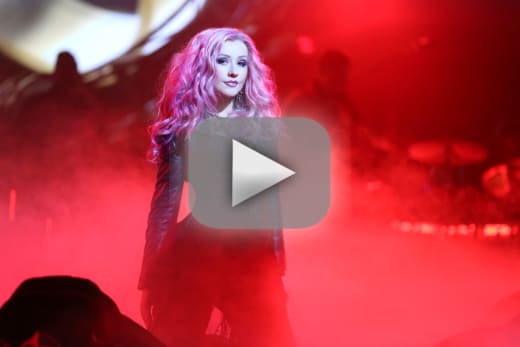 It's hard to fault Juliette for feeling overwhelmed by her new baby.
However, she didn't handle situation like a mature adult. Her inability to communicate with Avery has me worried for the couple.
Throwing this thought out there: Could Juliette possibly be suffering from postpartum depression?
The shot of her looking over her baby in the crib got me thinking this could be more than stress. 
It's understandable she would want to get back to work, but she has to be aware how awful it is to just fly to a job without telling your partner.
You know, I don't understand why women say you can't have it all. We've got everything worked out.

Juliette
I don't care how selfish Juliette can be. She's progressed too much not to be cognizant of that. I'm very disappointed with her after tonight's episode.
Now onto the less depressing main event: Christina Aguilera.
Surprisingly, she wasn't half bad playing Jade St. John (That's a stage name if I ever heard one!). 
Her need to get an introduction with Luke was a little strange, but maybe she's had a thing for him over the years. 
Her appearance served a greater purpose in providing some background context to Jeff's character. It makes sense that he'd have emotional/intimacy problems if he got his heart broken so badly by her.
Although, it has been 10 years, so perhaps it's time for him to get over it already. 
As much as Jeff can be a snake, he has tried to help move Layla's career along, and I do think he cares for her. Still, it's possible he'll lose everything again. 
Rayna would love nothing more than to see Layla come to her senses and get rid of Jeff.
It's not about you. You might of gotten her in the door here. This is her. She's making this happen. It's her talent. That's what she's got. I cannot wait for her to realize what a washed-up bottom-feeder you are, exploiting other people's hard work.

Rayna
Rayna knows how to dish out a tongue lashing like no other. 
However, her lack of discipline with Maddie is getting tiresome. 
I don't know about the rest of you, but letting Maddie come to the concert in the end was too lenient for my liking. A simple apology doesn't make up for the extremely disrespectful conversation Maddie had with Rayna earlier in the episode. 
Maddie: You're such a hypocrite.
Rayna: Excuse me? Alright, if you feel that way about it then we can have that conversation, but you need to be able do it in a respectful way.
Maddie: I don't respect you.
Rayna: Well then we have a problem.
Maddie is still upset about Deacon, but that doesn't give her the right to lash out and be rude.
I get that she's an emotional teenager, but not all of us acted out like that as teenagers. Trust me, I was one just six short years ago! 
In shady dealings news, Teddy has been set up by Natasha!
Did anyone see this coming? I thought after last week that Teddy might die, but maybe he'll go to prison instead. It's not a shocker that Natasha would cut a deal to save herself, so Teddy shouldn't have been so naive in helping her.
Teddy's life is about to blow up, and I couldn't care less. Like anything involving Lamar when he was still alive, the show fails to make the political aspect work.
It might be time to cut Teddy out. At least it would clean up the storylines.
Extra Thoughts
Gunnar needs to cool it with Scarlett. The girl is not interested so leave her alone.
Will finally asked out/kissed Kevin. Now he just needs to be able to do that in public.
Luke is such a likable guy around his son. More father-son bonding, please.
Favorite Performance of the Week: I'm giving this one to Layla. I wish we got to hear more of the song because it sounded really good. Come on, you didn't think I was just going to give it to Christina Aguilera because she's Christina Aguilera, did you?
So over to you guys! What did you think of the episode? What did think of guest star Christina Aguilera? Will Layla eventually ditch Jeff? What did you make of Juliette's actions? What are your predictions for Nashville Season 3 Episode 19?
Sound off below, and don't forget you can catch up on any missed episodes when you watch Nashville online via TV Fanatic! 
Amanda Steinmetz was a staff writer for TV Fanatic. She went into retirement in June of 2027. Follow her on Twitter.