The return of Arkady Kolcheck led to a whole wave of mixed emotions for our resident beacon of rumination, Callen.
At first, his supposed death led him to claim "mixed emotions" when confronted by the ever-caring Sam, but the reappearance and consequent dealings with Arkady may not have been ideal.
Regardless of however Callen deals with this in the future, NCIS: Los Angeles Season 6 Episode 21 keeps things tense but still manages to inject the mood with deadly humor in the form of the Russian guest star.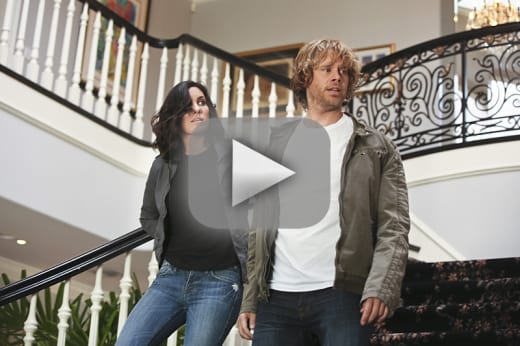 Callen's past with Arkady has been a questionable and enigmatic one, but he definitely did seem upset at the loss of his confidant and old friend. Although he claimed he could've pulled the trigger himself on several occasions, the confirmation of the KGB trinket definitely sunk Callen's heart into the pit of his stomach. 
If I was him, I would've been a more enraged at the following discovery of Arkady's existence. However, it's a good thing Callen is more professional than I am, and was able to hold his composure and focus on the case. 
I just -- I got mixed emotions about it.

Callen
Vyto Ruginis's Arkady is slow and precise, but also an extremely clever smooth talker. After many failed attempts at getting him into the right room, let alone going through the actual process of an interrogation itself, Hetty finally needed to be called in.
Calling in the big guns proved to be the right move, as only Hetty could slice through he slimy facade put on by Arkady to protect himself. She gave him three chances, and rather than strike out, finally spoke the truth. 
Hetty was also looking out for Kensi and Deeks, claiming they'd be fine staying the field together, even when that was Granger's point. Above all else, there's the still the looming investigation on Deeks by the LAPD – one that he doesn't feel comfortable talking about, even with Kensi.
Deeks: Kensi don't ask me that question.
Kensi: Why not?
Deeks: 'Cause I honestly don't want to answer it.
At this point, there has got to be something Deeks is hiding about his past. And it must be serious, if he won't open to Kensi. I wonder how much longer she'll be okay with staying in the dark. 
As far as couples go, Joelle seems to be doing fine just worrying about Callen in general but being blissfully ignorant overall. Eric and Nell also shared another extended moment of romantic awkwardness, and getting them into these predicaments must be a running gag by now. Eric can never help but talk himself into a corner. 
You're picturing my brain just now aren't you?

Nell
Whether or not Arkady is the only remaining link Callen has to the identity of his father remains to be seen. And with the way things left off, I'm sure we can except to see more Arkady in the future – hopefully with more answers and less drama. 
Watch NCIS: Los Angeles online and head over to NCIS: Los Angeles quotes to relive the twists and turns from tonight's exciting episode.
Next week, NCIS: Los Angeles Season 6 Episode 22 seems to feature some more insight into Kensi's past as a sniper, so that should definitely be more action packed. As always, feel free to leave your thoughts down below!