Jamie and Claire finally made it to Lallybroch.
Heading home meant a lot painful memories resurfaced for Jamie. Not only did we learn a lot about the last time he saw his family and how it related to Black Jack Randall, but we also discovered exactly what prompted the Black bastard to deliver upon Jamie such a brutal beating.
In Outlander Season 1 Episode 12 Jamie had a chance to reconcile his past with his present and the result was both painful and pleasant. Let's take a look!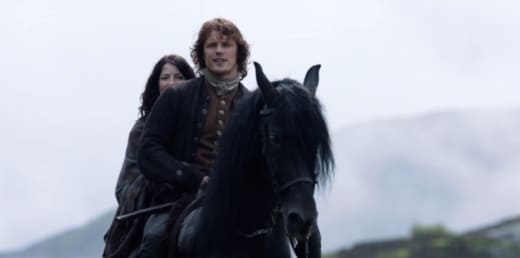 If there's one thing you never get sick of on Outlander, it's the incredible scenery. If only the ride up to Lallybroch didn't have to be marred with Jamie's immediate recollection of Black Jack flogging his lovely skin, it would have been perfect.
As it was, the rolling green hills made way for Jamie and Claire to return to Lallybroch and the biting tongue of his sister, Jenny. It's easy to see why Jamie was so taken with Claire, because the similarities between his sister and his wife are easily recognizable, especially with the two women at odds from the start. 
I love the early scenes of the homecoming and the uncomfortable friction between Jamie and Jenny, both unsure of each other and holding such incredible guilt and blame about the events surrounding that fateful day with Randall.
They're so similar and stubborn headed, and so afraid to reveal their true feelings. Jenny thought Jamie was dead all that time and felt abandoned by her brother, absolutely sure he deserved the flogging because of some boneheaded thing he said to anger Randall all that time ago. 
Jamie's swollen ego and desire to stand in his father's shoes, tossing aside all of the work Jenny had done in his absence, not even offering an explanation for the four years away, hardly gave her reason to believe any differently. 
Jamie, meanwhile, tried to fit into a mold that would never suit. His father wouldn't want Jamie to be his replica, but the man he was always meant to be. That meant Jamie had to realize Randall was the man ultimately responsible for the death of his father and his own absence from his family – for no other reason than he's an evil man. Nothing Jamie or Jenny did could drive Randall to such darkness. 
It was so horrible when Jenny finally saw the marks on Jamie's back and understood that nothing he said could have gotten him flogged like that, but then mistakenly put the blame back on her own actions. The two of them having an argument over who loved whom the most was perfect. The Frasers are definitely a challenging brood, in the very best way. 
Of course, Claire and Jamie were just settling into their new found happiness in his ancestral home when someone came upon them to wreck it again. What, exactly, is the guy doing pointing a gun at Jamie in his own estate and who spread the word that Jamie was back?
It appears Claire was right that attending Quarter Day was a little too public. Someone in the Lallybroch "family" must not have taken kindly to Jamie's return and let the fellow know he was home. If there is still a reward on Jamie's head, it could mean he'll be turned over to the Red Coats. 
Other bits:
It's hard to believe Jamie never sent word to Jenny he was alive even with the price on his head. After all, she said everyone there was like family and would never turn him in (ignoring what we know now). Four years and he didn't even sent a note before Mrs. Fitz sent the trunk?!
How presumptuous was Jamie immediately suggesting Jenny had Black Jack's baby and then a second child with another stranger? 
Claire still doesn't know when to zip it up and embarrassed her husband in front of his family and servants. Oh Claire.
Claire and Ian bonding over loving Frasers was very sweet and I look forward to more scenes between the two of them.
Does somebody eventually flog or kill Black Jack Randall or is the high road always taken regarding that mad man? The more I know, the more I want him to suffer.
I didn't miss a sex scene this week at all. Sometimes they're just a little too over the top. Is that a bad thing to admit?
What did you think of "Lallybroch"? Seeing Jamie naked in the stream wasn't so bad, was it? Was Jenny all you imagined? Drop a comment below if you have a minute. I'd love to hear from you!
Carissa Pavlica is the managing editor and a staff writer and critic for TV Fanatic. She's a member of the Critic's Choice Association, enjoys mentoring writers, conversing with cats, and passionately discussing the nuances of television and film with anyone who will listen. Follow her on Twitter and email her here at TV Fanatic.