I think a better title for Reign Season 2 Episode 19 would be Fallen rather than "Abandoned."
You've got fallen soldiers, fallen women, fallen trust and just maybe...a fallen head. Let's take it from the start.
When it was first revealed that Conde had been absent for WEEKS and then returned I had a near conniption. What do you mean he was gone and then had the audacity to come back? You need only see everyone else's reactions to see they felt the same way.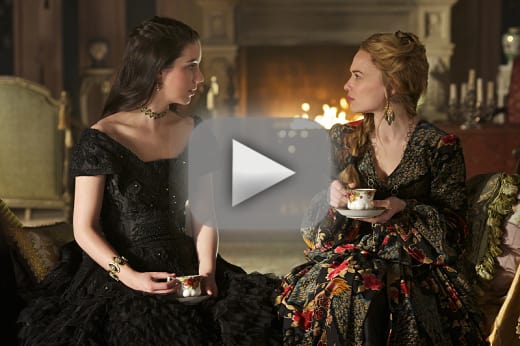 Well, everyone except for Mary who felt like she was dying with Conde gone. <Insert eye roll so violent you see nothing but the white's of my eyes.>
First Lola and Kenna point out how things would be better with his continued absence and then Francis sweetly offers Mary his protection when she starts feeling anxious over the hostage situation. I mean, his eyes went all soft, his voice was low and protective. You could see the love. And then he saw HIM.
The hope that must've grown in Conde's absence was decimated when Mary said she was sorry if he thought it was over. Why not just stab Francis yourself, Mary? Guess the good news is that's when angry King Francis' reared his golden head again.
You were planning to abandon our marriage, flee France and run off with my cousin so I no longer care what you do.

Francis
Now to fallen women: You had to love how Kenna and Lola didn't bat an eyelash when Greer told them about her new occupation. In fact, Kenna seemed so delighted I was just waiting for her to ask Greer to share all the juicy details and inside stories from the brothel. Frankly, I want those stories too! Leash, smeash, we've all heard of that kind of proclivity.
That said, I did think it a wee bit ridiculous that they headed over there again during prime business hours to give their bestie a bolt of cloth. Sure, they might be curious and even titillated by their access to this new world, but they are still ladies who need to maintain their reputations. Funny that it was Narcisse who reminded Lola of that.
We're all basically fallen women--an unwed mother, a divorcee, eventually, and now a madam. So I say to hell with what people think.

Kenna
Speaking of Narcisse, I like him with Catherine, but damn if he and Lola aren't twice as steamy chemistry wise. I'd like to see that particular dalliance finally take shape, but now that Catherine knows of his attraction to Lola one of the two is going to fall prey to her jealousy. Will she target Lola or Narcisse? Yes, Narcisse is likely using her for his own gain, but she uses him too so my money is on something bad happening to Lola at Catherine's hands. Girl better watch her back.
Is this how it's going to be from now on? Both of us constantly wondering what the other is up to?

Narcisse
Sharp as he is, I thought Narcisse was way too obvious in setting up Conde. I'm not surprised that scam fell flat. Francis could've pushed his power and had him charged with treason, but it would've only made things worse with Mary.
But undoing the wedding was a stroke of genius. Who did that? If Catherine and Narcisse are to be believed it was neither of them. I think that may be true as they seemed a little too shocked and, as Narcisse said, it went above and beyond anything they'd put into motion.
Which makes me wonder who the third party could be.
Would Francis make that move? Part of me thinks there's no way he would do that, but another part of me says he's reached an enough is enough stage. It seems to me that as long as the wedding papers are never found Elizabeth can't claim his throne, but Conde could be found a traitor.
This will ruin Conde in France forever.

Narcisse
Then too, maybe it was Elizabeth. Could be she didn't like being a sloppy second and got her vengeance. But doing that would seem to eliminate her in to France.
If you missed the blade's edge grow closer to Conde's neck, make sure to watch Reign online.
So, what do you think? Who do you believe is responsible? Do you think Conde will lose his head? Will Francis and Mary lose their crown? 
Terri Clark is a staff writer for TV Fanatic. Follow her on Twitter.