Salem Season 2 Episode 1 Review: Cry Havoc

Carissa Pavlica at . Updated at .
Things are definitely heating up in Salem, but it seems pretty clear what occurs in Salem Season 2 Episode 1 is probably nothing in comparison to what's on the way.
That said, we saw several murders, an attempted suicide and got some new insight into the term whacking off to start off the season, and if things continue along this vein, we're in for a hell of a ride.
It was a bit of a jumping off point, a way of whetting our appetites for the witch war that's coming.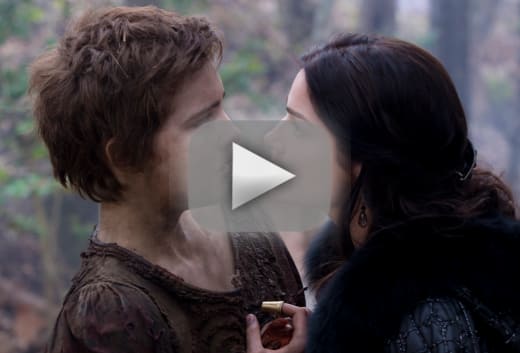 Mary may still be a very powerful witch, but she was making some decisions that made me wonder if the introduction of her son, known as the boy but who chose to call himself John after his father, might be making her weak.
Was Mary thinking straight when she strode confidently into the body pit to confront Mercy? Although she left after supposedly putting a curse on the girl whose life she changed forever, she didn't look as confident as she attempt to stride back out, Mercy's army staring upon her.
If you believe nothing else I say, believe this. If you defy me, only horror awaits you. Unimaginable and infinitely painful. Hear me. That is no mere promise, but a curse.

Mary
Her timing seemed off when she walked in on Anne, right after Anne attempted to commit suicide (you have to wonder how many times she tried before and, wow, what a life force she has!), only to egg her on by revealing that she was responsible for nearly killing her in Salem Season 1 with the doll. She nearly lost an ear.
She used that revelation as a recruiting tactic on Anne, although I'm completely unclear how she thought that would be successful. She was right, though, about how the world has come to be. That doesn't mean her own attempt will be successful or that Anne doesn't have a point.
Anne: How can you hope to build a new world on the corpses of the innocents that live in this one?
Mary: There is no world, new or old, not found on violence and blood.
Mary is feeling confident about the plague, however, even with the introduction of Dr. Samuel Wainwright, who was somehow able pinpoint the beginning of the witch pox with, essentially, GPS precision using a rudimentary drawing of evergreens on a napkin and markings on the doors of the afflicted. I'd consider him a bigger threat if I were a witch, even being immune to the pox. He has powers of his own, it seems.
Mary is also unaware of John's plan to rid Salem of all witches. His friends kindly used their own magic to help hide that of the seer so Mary thinks him dead and gone. He will, hopefully, come in undetected. But once he's there, then what? Short of slaying each on the day of his arrival, the effect of return will be lost, won't it? I guess he will live under the radar for the remainder of the season.
Cotton has been banned from Salem, but I hardly see him listening to a bunch of men when he wouldn't listen to his own father. Surely one of them held far more sway than the others. Since he's technically unable to go back, staying under the radar with John seems like a decent place to be, but I think he's going to get closer to Anne Hale, and she's a witch. Surely killing all witches won't be as appealing once he learns of her new talents.
Most surprising of all was how brazen Ms. Mercy has become. She took to begging just a little before the deaf and dumb witches in the hope they would allow her to take the place of Mary in their plans, but when they didn't care to do so, she and her army killed them, stringing them up in the gallows, taunting Mary by beginning the Witch War.
How many other men have had their packages replaced by a different type of bird when it was whacked off? Cock a doodle doo! While Mary was striding around rather arrogantly, also preparing to bring the curtain down over Salem to "open the gate" (I assume to hell?), Mercy was amassing a very large army to help her fight Mary. Who else will side with Mercy? 
It's all rather exciting. Mary seems very alone when you stand back and look at her. She has a child, but she doesn't have him. John is thought dead and he vows to kill all witches, including her. Who knows where Tituba and Anne will stand and Countess Marburg is on her way.
What surprised you the most? Who are you rooting for in this witch war? Will John be successful in killing the witches or will he turn around when he realizes his son is alive? What do you think is coming this season? Hit the comments!
Don't forget, you can watch Salem online via TV Fanatic!
Carissa Pavlica is the managing editor and a staff writer and critic for TV Fanatic. She's a member of the Critic's Choice Association, enjoys mentoring writers, conversing with cats, and passionately discussing the nuances of television and film with anyone who will listen. Follow her on Twitter and email her here at TV Fanatic.