Salem Season 2 Episode 2 Review: Blood Kiss

Carissa Pavlica at . Updated at .
All hail Countess Marburg!
And let's heap a lot of praise onto Lucy Lawless while we're at it, because if Salem Season 2 Episode 2 was any indication, the series willkeep its dark tone while managing to be incredibly witty and whimsical, as well, thanks to the addition of this fascinating new character.
While the dialog has always been crisp and well written, what is flowing from the lips of Countess Marburg is fanciful and practically otherworldly. The Countess floated into Boston Harbor and brought with her a lot of excitement for what's to come.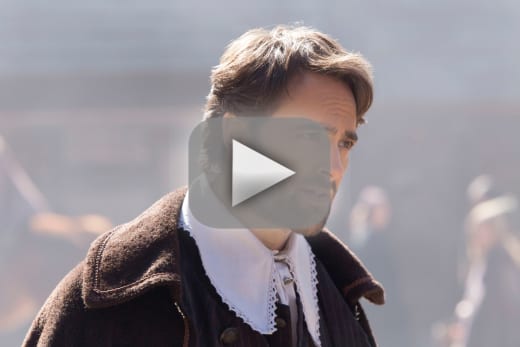 Mary has been busy preparing for the upcoming comet that will usher in the Grand Rite and bring forth the Lord of Darkness. I still find it hard to believe she really buys into the whole shebang, don't you? She gets ruthless and mean when she's feeling trapped, but otherwise she's still a woman with plenty of human emotions.
When Tituba warned her Sexy Dr. Samuel Wainwright had Isaac in hand and the poor young man could be spilling his guts, she seemed at ease with putting him down; until Isaac started mumbling about caring for Mary. Suddenly she dumped the concoction she was going to feed him and there were tears running down her face.
Mary seems a witch only when it's demanded of her because they are holding her hostage and she doesn't personally know those she hurts. That's not indicative of a good candidate for queen of the night.
Anne's powers keep getting stronger, and when Mr. Hawthorne came to her using the exact speech about being an orphan (isn't she an adult?) that Mary said to expect under the circumstances, Anne magically propelled herself to Cotton Mather's house in Boston.
Anne and Cotton had some sort of feelings for each other in Salem Season 1, and it looks like they'll grow closer. She'll bring him back to Salem, so that's a start. And how wonderful that Countess Marburg showed up at Cotton's smelling a witch!
I could literally post about five Salem quotes right in a row here, they were all so dazzling. I'm in love. Given what we saw previously, I thought she might be a little more devious, but with another witch, she was simply stunning.
Countess: I am deeply desirous of knowing who it was who performed the Grand Rite. My own triumph was stolen by that pestiferous, puss-headed killer Increase Mather.
Anne: You knew Increase Mather?
Countess: Oh, he and I danced a lively jig and neither of us left it unlocked. I'm going to tell you all of my stories sometime, but it's not about me now. It's about you.
The way the words rolled off of her tongue! Were you not smiling from ear to ear as Anne looked at her, wide-eyed with disbelief?
There have been rumors of character returns, and given the turn of conversation wherein the Countess said Anne would learn to speak to her father (and that all witches kill their parents, brilliant!), it seems we're in for a return engagement by Magistrate Hale and Xander Berkeley. Hooray! The Countess just keeps delivering good news.
The fiery kiss she planted on Anne not only surprised Anne, but gave the Countess information, such as who performed the Grand Rite and a hint of innocence and strawberry.
Sebastian: What did she taste like, mother?
Countess: Like lemons and honey. Like Strawberry and sugar. Like innocence. [kiss passionately]
Sebastian: I can still taste the honey.
Countess: Well, nothing lingers like innocence.
Her son, Sebastian, tasted the lingering honey and ohmygod does the woman love kissing or what?? Then again, as the hour progressed, we learned it's not just a Countess Marburg thing at all, but perhaps a witch family thing.
When Mary kissed her boy on the forehead and he pulled her in for a completely different kiss, my first reaction was to laugh. My second was to wonder what on earth Janet Montgomery must have been thinking when she was told she was going to have to film that scene! Talk about provocative. At least it remains true to what we earlier witnessed.
With the introduction of Countess Marburg, in one short hour, there was so much more to pique our interest. Are witch families a little...disturbed...in general? Can they communicate beyond the grave? Do witch children always kill their parents? Can all witches climb inside the souls of others? How many types of witches are there (Essex, etc.)? 
Mary also had her retribution on Mercy, who was burned alive with her entire little army. Mercy made it back to her father, a little more crispy when she last saw him. I'm at a loss as to why she chose that particular moment to go "home."
John Alden is back in Salem, becoming a killing machine, taking out pretty much anyone he comes into contact with, which paints him in an almost unrecognizable light. Who or what has he become in his quest to rid the world of witches? Why is it necessary to kill all in front of him?
With Samuel moving into John's house and probably preparing making a move on John's woman, the good doctor should probably tread lightly as John seems to be enjoying taking the lives of those he encounters in the dark.
Since the Countess wants to size Mary up before meeting her face to face, it seems she'll be spending most of her time in Boston. I hope that doesn't cut down on her screen time, as she's a delight. Agree or disagree? Are you ready for her to put her feet on the ground in Salem?
Hit the comments with reactions to the events of "Blood Kiss" and remember you that can watch Salem online right here via TV Fanatic any time if you need to catch up. 
Carissa Pavlica is the managing editor and a staff writer and critic for TV Fanatic. She's a member of the Critic's Choice Association, enjoys mentoring writers, conversing with cats, and passionately discussing the nuances of television and film with anyone who will listen. Follow her on Twitter and email her here at TV Fanatic.