It would be great if someone could come over here and check my pulse because I'm pretty sure I've stopped breathing and haven't started up again after the final five minutes of Scandal Season 4 Episode 19. 
All the feels? I'm having 'em right now. Absolutely all of them. 
JAKE BALLARD IS DEAD. 
Jake Ballard is dead and Rowan Pope used Olivia's plaything Russell, who happens to be one of his operatives, to do it. 
I knew Russell was bad. He had to be. I knew it. I felt a little sigh of relief when I saw he was alive on Olivia's floor and gave myself the briefest moment to think that Rowan had decided to spare an innocent man's life before realizing that the only way Russell wasn't dead was if he was on Team Rowan. (I don't understand why he showed up at her door asking about the lost time though, unless he just wanted some of that Olivia Pope action, in which case, why not just say so.)
You guys, I literally cannot even with Olivia's father! Rowan Pope is the most evil man to ever evil anywhere on any show on television. There is no one out there worse than him. That's why I hate him. HATE HIM. 
He's undefeatable and that makes for a terrible villain! What's his weakness? How can they ever destroy him if he's both the snake AND the head of the snake that keeps growing back? Or whatever analogy he (or Jake) once rattled off about how B-613 will never die. 
This man just keeps killing people and killing people and killing people and sending men to sex up his daughter and SOMEONE HAS TO STOP IT. The only way out for Rowan Pope is with a few bullets to his chest and I hope Olivia is the one to do it. I hope she grabs that gun she carries around her apartment and shoots her father right in the face and then has Huck and Quinn come clean it up. 
That is if Rowan doesn't kill them first. 
I'm more annoyed by Rowan's return than excited. Sure, Joe Morton is amazing in the role and I could listen to him spit vitriol at people all night long, but we're recycling storylines on a show that's only four years old, guys. That's...not good. 
We have to get rid of Rowan Pope once and for all. 
Now let's talk about The Feels regarding Jake's death, okay? Because I'm having them.
For starters, yes, I'm a fan of Scott Foley's, so I'm sad to see the actor leave the show. I can honestly say I didn't see it coming and actually thought the writers were gearing up for a reunion for him and Olivia with some of their long glances tonight. So on a level of liking the actor, yes, this is sad. 
I'm also a little bit thrilled about how it was such a sudden and untouted death, a rarity for ABC who love to promo things like "SOMEONE. WILL. DIE.," so we got the chance to be shocked. That almost never happens with this network. Bravo, guys!
And I'm also a little leery about what's coming next.
Jake's death is going to send the White Hats into a frenzy while they all try to figure out the best way to proceed, with David Rosen no doubt being Team Grand Jury all the way while the spies try to duck out to their respective corners of the world where they will live in constant fear of ending up on a conference room table just like Jake did.
And it's going to make Olivia do one of two things: move forward with her plan to burn Fitz OR go running back to him.
Jake has always served as a stand-in while Olivia waits for Fitz. A distraction. Always. She did have some kind of feelings for him, and yes, they launched a shipper war with who was the better guy for Olivia, but now that he's not in the way, what will she do? 
What effect will his death have on Olivia and her relationship with Fitz? How will Fitz react when he finds out what they were planning and what it could have cost him? 
Maybe I'm wrong and Jake's death will serve to further convince Olivia that her father must be taken down at all costs, even if that means Fitz falls with him. In fact, I hope I'm right about this. 
Throughout this entire episode, Olivia was on a quest for justice, and justice for Marcus Miller meant that he did the thing that might actually destroy his own life, all the while standing up for the side of right. 
Olivia has done a lot of wrong and she's carrying the weight of that right now. When she gave that speech to Marcus about being so far down the wrong path everything is unrecognizable, she was talking about herself. Maybe that weight means she'll move forward with the plan to destroy her father, Fitz and the White House be damned. Maybe it means we'll see more of Marcus Miller. 
Letting it all come out, telling the truth, is the only way she's going to be able to get justice for the ripples of people who've been affected by all her father has done. 
The families of the people on the plane shot down in Operation Remington. The families of the spies he took. His own daughter. And countless more we don't know about. He believed he was doing what was necessary for the Republic despite all the collateral damage left in his wake and that makes him dangerous. 
All these words later and I'm still shocked Jake Ballard is dead. Maybe it'll feel different in the morning.
What did you think of "I'm Just a Bill?" Are you shocked Jake Ballard is dead? Does Papa Pope need to die? Sound off in the comments below and watch Scandal online so that you're ready for Scandal Season 4 Episode 20 next week!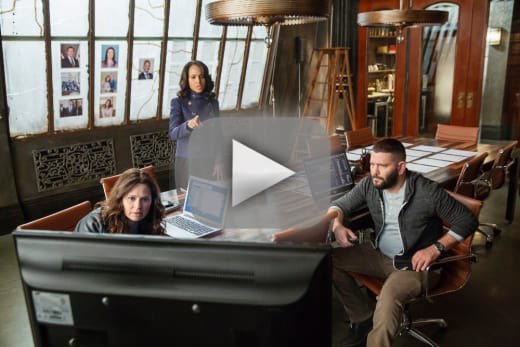 Miranda Wicker is a Staff Writer for TV Fanatic. Follow her on Twitter.