Scandal Season 4 Episode 20 Review: Bark, Bite or Both?
Miranda Wicker at . Updated at .
If emoji could be used in this post, y'all would see the little raised hands praise emoji right here. Scandal Season 4 Episode 20 answered one of the craziest, twistiest moments in Scandal history.
Jake Ballard IS ALIVE!
Now I don't have to boycott Shonda shows, which is good for my Thursday nights.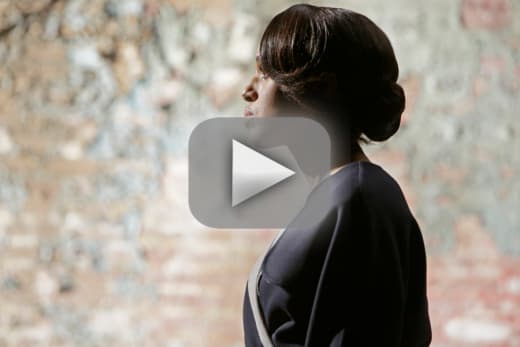 It really, truly looked like Jake was going to be a goner after last week, and even though there were leaked photos of him laying in Olivia's bed from Scandal Season 4 Episode 21, part of me wondered if the fact that ABC yanked them from their media site meant they were never supposed to go out at all and Jake was really, really dead.
Plus, Scott Foley is writing a comedy for ABC which Shonda is producing. All signs were pointing toward an exit. And maybe an exit will still happen by the time the season ends. But not tonight. 
Tonight, Jake is alive, barely. And not without several additional attempts by Russell to finish the drill. 
I'm truly not sure I've ever been more proud of Olivia Pope than in the episode's final moments. Here I was ready to shout at the TV and her for being so stupid to sleep with the guy after all they had just been through when she tells him to close his eyes and puts a gun to his head. 
Atta girl, Liv! Way to figure out that this is the SECOND spy your Daddy sent to seduce you! (She really should just start expecting that at this point, you know?) Digging her fist into his gunshot wound to show him she means business? YES, girl! He's a monster! So is her father. She can be one, too.
And Rowan Pope really is a monster. He's the worst kind of monster. 
I'm sure that at some point it's been discussed that Rowan Pope will kill children but tonight we actually saw that. My reaction to that scene was almost equal to Olivia's retching. How heartbreaking and horrifying that he walked into that woman's house and killed not only her but also two innocent kids!?
[Edit: OMG HOW DID I FORGET ABOUT JERRY!? My bad, guys. So exhausted!]
If this man doesn't die in the next two episodes, I'm not sure what I'm going to do. Have fans ever petitioned a show to have a character killed before? Maybe we should all start sending Shonda paper products to voice our displeasure like the Jericho fans sent peanuts.
She would probably just use said paper to print off more scripts featuring Rowan Pope as an all-powerful, all-knowing evil being who is seemingly untouchable. 
Man, why didn't Jake kill him when Rowan was fishing? Just...strangle him and throw him in the river. Be done with it. This man has got to go. There is nothing redeemable about him at all. He's a character who has believed his own hype for far too long, killing people – some of them innocent – in the name of the Republic. 
I hate him. Viscerally.
As for the rest of the episode, all the parts that did not revolve around Rowan and Olivia and saving Jake's life were moderately interesting. I like the idea of Mellie running for the Senate because it's never been done before so it's sort of interesting to watch it play out on TV and imagine what it would be like if Michelle Obama or any other First Lady decided to run while her husband was the sitting President. 
Plus, it gives Abby something to do and makes Lizzie a tolerable character. Plus, Portia di Rossi's hair is SO MUCH BETTER than it was when she first joined the show. 
Cyrus and Sally's sit-down was one of the better moments of that side of the night. Any time those two get to spar is a good time, and the fake American public is right. Cyrus would kill it with his own talk show!
It's good that he acknowledged the real reason he doesn't want Mellie to run for Senator and pointed it out to Abby. Having her run weakens Fitz' political clout to the point of pretty much negating it. Cyrus is worried that everything they've worked to build will be destroyed by having Mellie take the lead in the eye of the public.
After all he's given up to get Fitz there, all he's lost to keep him there, it's sort of sad to see Fitz not considering that. Yes, Cyrus works for him, but they're also friends.
Cyrus is never going to get on board with Mellie Grant for Senator. Maybe he should take Sally's advice and run against her.
What did you think of "First Lady Sings the Blues"? How relieved are you to know that Jake is still alive? Should Rowan Pope die before the season ends?
We have two weeks until the penultimate Scandal Season 4 episode! You can pass the time and watch Scandal online right here at TV Fanatic!
Miranda Wicker was a Staff Writer for TV Fanatic. She retired in 2017. Follow her on Twitter.