Scandal fans are still reeling in shock from that dramatic conclusion at the end of Scandal Season 4 Episode 19. Jake Ballard entered the offices of OPA only to be attacked by one of Rowan's men, Russell, who also happens to be sleeping with Olivia.
(If any of us thought this wasn't a night time soap opera, we were wrong.)
The real question is, would Shonda Rhimes REALLY kill Jake Ballard? Is he REALLY dead? Take a look at this video sneak peek from Scandal Season 4 Episode 20 now.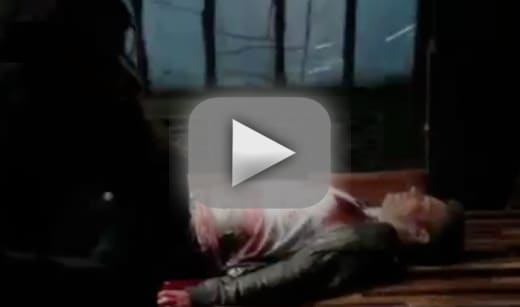 Quinn Perkins gets to work to find the office dark and empty, just as they had left it the night before. Then she starts turning on the lights to find none other than Jake, covered in blood, splayed out on the conference room table.
"Oh, they got you. We let them get you," Quinn says, believing they're all in danger of dying at the hands of B-613 operatives under the command of Rowan Pope.
She immediately begins looking around for Jake's attacker suspecting he might be lying in wait to take her next. She does not, however, take Jake's pulse. 
What I'm saying is THERE'S STILL A CHANCE. But it definitely looks like he's a goner. 
What do you think, TV Fanatics? Is Jake Ballard dead? Tune in tomorrow night for an all-new Scandal, but be sure to watch Scandal online before then to see what might have been Jake's final scene among the living first.
Miranda Wicker is a Staff Writer for TV Fanatic. Follow her on Twitter.