The Blacklist Season 2 Episode 18 Review: Vanessa Cruz

Sean McKenna at . Updated at .
A sexy widow out for revenge, intricately setting up the people who got her husband killed, even killing some of them in the process.
So why does Red want her? What is his angle?
We may have learned how skillful and adept Vanessa Cruz is at her dangerous craft, but The Blacklist Season 2 Episode 18 wasn't quite ready to reveal what Red might have in store for her.
Interestingly enough, she managed to escape Liz and the FBI task force, which felt new and different, but it wasn't Red that helped Liz get close to her capture. It was Tom.
Tom has been eager to get back in Liz's good graces, to find some sort of redemption after everything that happened and fell apart. And he needed his passports, but it wasn't surprising he was willing to help her.
Red on the other hand, clearly had an ulterior motive and his assistance in the case was based on Liz giving him the fulcrum. Though, with their rocky relationship, that wasn't surprising she just didn't hand it over.
I know Red felt he had bigger fish to fry in dealing with the secret organization and making his power plays against the Director, even preparing himself to get lost, but maybe he should have heeded Dembe's words of being honest.
It may have been painful for Liz to hear, but it would have been better if Red told her about sending Tom to her.
So I really enjoyed hearing Tom talk to Liz about being honest, about starting fresh. And I liked her response of acknowledging that maybe he could do just that.
But instead of this complete 180 forgiveness, she kissed him goodbye. Granted, he wasn't completely honest, but she seems pretty intent on moving on from Tom.
And I think her honesty with Tom really spurred him even further into finally coming clean and revealing the truth about his relationship with Red.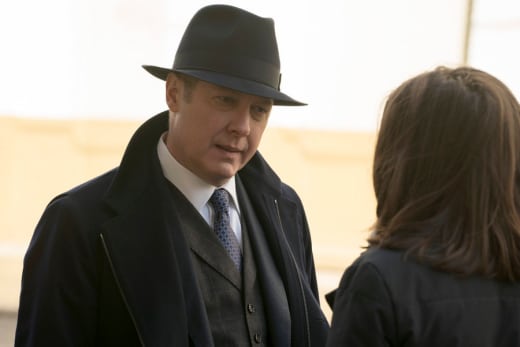 So it was fantastic to see her confront Red, and you could tell Red knew what was coming. I'm glad he finally admitted the truth, but it was too little too late.
It was no shock to see her anger and frustration at him, though I was sort of surprised she just handed over the fulcrum. But she wanted nothing to do with Red, and the fulcrum was that tie to him.
As if the moment wasn't intense enough, pushing those relationship boundaries further, Red was shot!
Red can't die (The Blacklist just wouldn't be the same without his character), but it was still a dramatic way to end the hour.
This was a well-crafted episode that made the case of the week interesting before spinning it into something even bigger with Red's connection. Plus, we really saw the push and pull between Liz and Tom and Liz and Red, Red's struggle with the secret group, and a chaotic but powerful ending.
But will Liz really care after what she just learned? And will the fulcrum really shift Red's position of power against the Director (who I'm assuming sent that shooter after Red)? I'm dying to know what happens next.
What did you think of the episode? And while we have to wait until April 23 to find out what happens next, at least we can watch The Blacklist online to tide us over until then.
Sean McKenna was a TV Fanatic Staff Writer. He retired in May of 2017. Follow him on Twitter.