The Originals Season 2 Episode 18 Review: Night Has a Thousand Eyes
Miranda Wicker at . Updated at .
Finally! The arrival we've all been waiting for since, what, December, is here! Dahlia is in New Orleans!
The Originals Season 2 Episode 18 introduced us to the face of Dear Aunt Dahlia...and the creepy eyes. And her nearly omnipotent nature.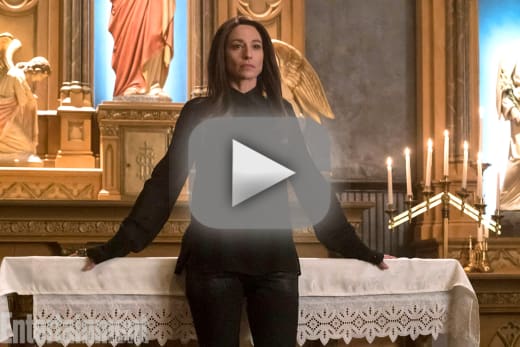 While it would've been nice to meet Dahlia about three episodes ago, maybe four, I can't deny that her first present-day appearance was pretty spectacularly scary. Like Hayley told Jackson, Klaus and Elijah are 1,000 years old, so if they're scared, it's a big deal. And they were scared. 
The issue with Klaus' plans is that he never thinks to include relevant parties because he's always so paranoid that everyone is out to get him. When he's in possession of the white oak stake AND Papa Tunde's blade, the only two items which we've seen do him serious harm, what does he have to fear?
Telling Freya his plan was actually to create the weapon and not just scheme and think about creating a weapon might have been beneficial. She could've told him about Dahlia's disappearing act. 
That disappearing act is going to get old quickly. Dahlia is already venturing into too powerful territory, much like Esther before they turned her into a vampire, and that won't last long. They have to come up with a way to defeat her or evolve her in the next four episodes because Dahlia the Omnipotent cannot continue indefinitely. It makes for tiresome television when the big bad can't be destroyed. 
It seems the easiest way to defeat Dahlia is to figure out how to unlink her from Freya since Freya is the source of Dahlia's power. Let's get Davina and Rebekah on that and then let them work to bring Kol back. If we can keep the body of Daniel Sharman since Original Kol is a pile of ashes, I swear I won't complain.
Klaus and Mikael teaming up to fight Dahlia was just about the best thing we've ever seen on this series, and I was eagerly hoping we would see more of it. Then Klaus killed Mikael – again – and those hopes were put to rest. 
What we got instead of the promise of Klaus and Mikael becoming a witch-fighting duo was an answer. 
Why has Mikael hated Klaus even before learning that Klaus wasn't his biological son? Mikael's answer? "I don't know. I just did."
Who among us didn't want to drive that white oak stake straight into Mikael's heart themselves? I practically shouted for Klaus to do it, but a tiny part of me thought that perhaps Klaus would find leaving Mikael alive to be more torment than killing him. Ultimately, it's a good thing Mikael is gone because there's only so many vitriolic exchanges between him and his children that can be tolerated and we've just about reached max capacity. 
Peace out, Mikael. Again. For good this time. 
And peace out Josephine LaRue, too. 
I'm actually quite sad about that, to be honest. I had hoped the old lady would take Davina under her wings and mentor her, but that wouldn't really make much sense seeing that they're not members of the same coven. It could've been an opportunity for a super coven, though, and one that might be useful in defeating Dahlia. 
Of all the plans which were concocted tonight, Jackson's was the most sound. Don't stay in the city. Disappear. Completely. Find a witch down the road to suppress Hope's magic (if that's possible), erase the witch's mind (if that's possible), and just get out. I wanted their escape to be a successful one. It would have added an interesting layer to ways in which Hayley and Klaus see fit to protect their daughter. I like her best when she's standing up to him, proving that the Mama Wolf inside her is strong and fierce.
Their inability to escape is also problematic because now there's very little chance they'll be able to, and the safe house has no doubt been compromised. Josephine LaRue's death probably canceled the spell protecting St. James Infirmary and it won't take Dahlia long to track them down.
I like Aiden, and I'm pulling for him and Josh to survive, but he really jacked this one up. Way to go, wolf.
What did you think of "Night Has A Thousand Eyes"? Are you already tired of how powerful Dahlia seems or is she just powerful enough? What's her weakness?
Sound off in the comments below and then watch The Originals online while we wait for The Originals Season 2 Episode 19 next week!
Miranda Wicker is a Staff Writer for TV Fanatic. Follow her on Twitter.