The Real Housewives of Beverly Hills Season 5 Episode 22 Review: Reunion Part Three

Christine Orlando at . Updated at .
The roller coaster ride of a season ended with The Real Housewives of Beverly Hills Season 5 Episode 22 as the claws came out between Kim and Kyle Richards. We recap the barbs and bite marks in our +/- review.
Is anyone else tired of Kim Richards threatening to spill horrible secrets about other people but never actually doing it? She always gets that same deranged look on her face. That I know something and you better not make me tell it, look with her eyes bugging out but then when she's pushed she never says a word. Minus 50.
She's done it to Lisa Rinna about her husband and now she's done it to her own sister Kyle about her daughter, Kim's niece!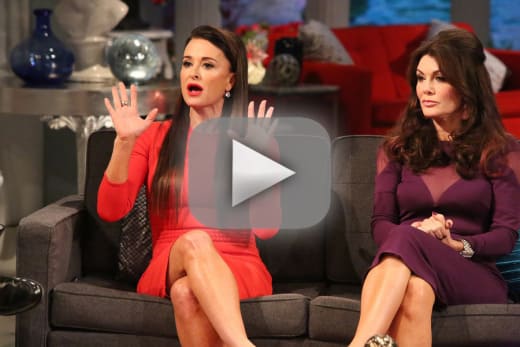 How low can Kim go? We don't know but she's already finding sub-basements we never would have expected. 
Kim was quick to whip out texts from Lisa Rinna who told Kim she needed to be nice or she'd "f**k her up." Yeah, not Rinna's finest hour. Minus 15. She apologized for it later, even as Kim laughed at her. Even when Kim is in the right she still ends up looking mean and half out of her mind.
Lisa Rinna did manage to steal the crown for the most F-bombs this season. Plus 25. Not many people can take that crown from Brandi Glanville's head. No wonder Lisa's husband gave her a lecture. 
Lisa Vanderpump was all about the dirty talk, of course it always sounds more elegant with that British accent. Plus 43. 
Andy visited space cake gate one more time. Ugh. Boring…minus 13.
And Brandi and Andy both admitted that they date 20-somethings even though they're both in their 40s. Well, dating may be a stretch to describe what they do. 
The scariest moment of the night may have been when Kim declared that she's not struggling with her sobriety and hasn't been for three years. Minus 33. Talk to any addict that owns their issues and they'll tell you that every day is a struggle which makes Kim's attitude really concerning. 
Finally we got to Kim's dog Kingsley. Last season we saw lots of Kingsley and this season he was no where to be found. I knew that wasn't a good sign. 
Turns out Kingsley bit Kyle's daughter on the hand. She ended up in hospital and had to have an IV drip for several days to fight infection. The worst part was that Kim appeared to take no responsibility for any of it. Minus 37. Then again, Kim hasn't taken responsibility for much this season. 
Instead she was furious that her sister posted pictures of her girls in the hospital on Instagram and people figured out that Kingsley was the culprit. 
It was all incredibly sad to watch, leaving Lisa Vanderpump to hand out sage words of advice. The sisters need to repair their relationship enough that they can be there for one another and not tear apart their family or in later years they'll regret. 
Is that even possible? Can Kyle and Kim's relationship be saved? And will Eileen Davidson and Lisa Rinna return next season?  We'll all have to wait for The Real Housewives of Beverly Hills Season 6 to find out. 
Episode total = -80! Season total = -458!               
Do you miss the drama already? You can watch The Real Housewives of Beverly Hills online right here at TV Fanatic. 
C. Orlando is a TV Fanatic Staff Writer. Follow her on Twitter.