Death's come a knockin' and taking a few tragic souls with him. 
Things have taken a turn for the worse on The Returned Season 1 Episode 8 as Caldwell's body count rises. 
So let's discuss what these deaths mean to the story going forward.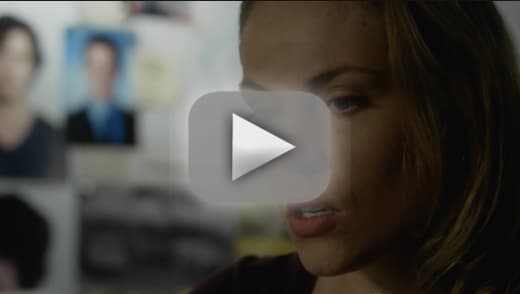 This episode felt like a departure dramatically. Tensions have been high for a while now, but the storyline tonight showed us the direction the show will be taking in the remaining episodes. It's going to get dark! 
Tony's death was brutal. I winced as he kept banging his head against the table over and over again.
He felt so guilty over killing his brother, but it was the hallucination of his mother that sent him over the edge.
Do it son. Make it right.

Tony's mom
I wanted to feel sad over Tony's death, but I couldn't. There are so many characters on this show that it's hard to feel a connection to everyone. 
There's only a handful of characters I'm actually interested in watching. The others feel more like filler. 
Tony's death did serve a greater purpose for the audience. It highlighted just how sketchy Victor is. We saw in the flashback that he latched onto a woman before. When that woman abandoned him, she died on the school bus that crashed because of Victor.
Who is this kid? I have a feeling he's the one who knows what's going on. He could be holding the answers everybody wants revealed. 
Julie defended Victor when talking to Nikki, but I'm not sure she'll be as nurturing toward him going forward. She had to have noticed that creepy smirk he had while watching Tony kill himself.
Speaking of that, it seemed to me that Victor was the one who conjured up the image of Tony's mother and influenced him to commit suicide. 
Camille wondered if she had the power to make people kill themselves. 
The Koretskys' suicide is a result of Camille's attempt to comfort them the day before. Sorry Peter, but her words definitely had an impact on them. 
It doesn't surprise me they would have killed themselves because Camille confirmed to them that there was a heaven and their son was waiting for them. 
Jack: Camille told them that their son was waiting for them in heaven because you told her to. This is because of your brilliant idea.
Peter: Jack, one statement does not drive people to suicide. Okay? No one could have known how fragile the Koretskys were.
Claire: We should've known. After the accident, I would've done anything to see my daughter's face again.
I don't think Camille intentionally influenced them like Victor seemed to do with Tony, but there has to be something bad brewing inside. She can feel it. 
There are moments watching Tommy that make me wonder if he's the one that really killed Simon. Then the other 90 percent of me believes that Simon killed himself. He seems impetuous and unstable that he very well could have. 
We'll have to see if Simon still thinks he and Rowan are meant to be now that he's woken up in the morgue. Who didn't see that moment coming the second he was shot last week? 
The low point of the episode was Claire. That's not good considering the episode is titled after her. Were we supposed to be surprised by her affair with Peter prior to Camille's death?
I just can't seem to connect with her, Jack, or Camille. I find Lena more interesting than the three of them combined. 
Claire's back and forth with Jack and Peter is annoying. One week she agrees with everything Jack says. The other it's Peter. Maybe she should just make up her own mind about things. 
So over to you guys! What did you think of the episode? Do you think Victor made Tony kill himself? Will Simon be vengeful now that he's awake? Will Camille inevitably turn bad? What are your predictions for The Returned Season 1 Episode 9?
Sound off below, and don't forget you can catch up on the mystery when you watch The Returned online via TV Fanatic! 
Amanda Steinmetz was a staff writer for TV Fanatic. She went into retirement in June of 2027. Follow her on Twitter.