We learned this week that American Idol Season 15 will be the reality singing competition's last, which makes tonight's reveal of the American Idol Season 14 top two that much more important. 
Whomever wins this season will go down in history as being one of only 15 people to win the Idol crown, and while that hasn't always meant instant success for the winners, given the talent this year, there's a strong chance this year's winner will not be soon forgotten.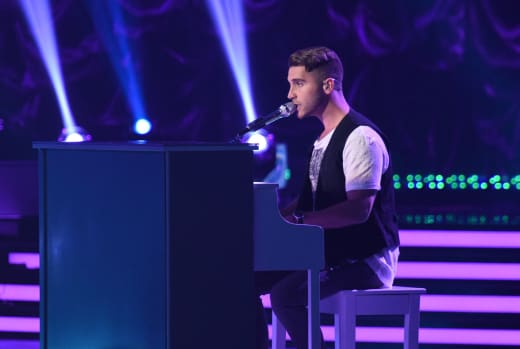 Ryan Seacrest kicks off the night by kicking one of the top three off the show. Less than .4 percent separates Clark Beckham and Nick Fradiani as they take their place in the Top Two. 
Jax​ got the boot and she'll be going home. 
ROUND ONE: Audition Songs
Clark Beckham will be the first to sing tonight with "Georgia On My Mind." This is one of my favorite songs and I'm pretty thrilled to hear Clark sing it. It's in his wheelhouse, but it might be a sleepy way to start the evening. NOPE! Not sleepy! Clark brings a little new pizzazz to an old standard. It's perfect start to finish. 
Keith calls it "a whole mess of flapjacks drenched in syrup." Jennifer says he reminded us why he's here. Harry loves Clark's undercurrent of drive. 
Nick Fradiani takes the stage to sing "Bright Lights." The Matchbox Twenty vibe is perfect for Nick, and this is a guy who has really come to life on the stage in recent weeks. He kills his opening number and gets the crowd up and moving and just looks like he's having a blast. 
Jennifer has a hard time talking because the crowd is so pumped up but finally manages to say that Simon Fuller, the show creator, was probably thinking of someone like Nick to win it. Harry tells everyone to vote for the guy they want to win. Keith compliments Nick for the stellar audience reaction he garnered.
ROUND TWO: Simon Fuller's choice
For Clark Beckham's second number, he'll take on "Ain't No Sunshine," which was chosen for him by Simon Fuller. This guy just exudes sex appeal and hotness when he sings. He strips the band completely out of this one and just goes on stage with his acoustic guitar and it's a perfect choice to showcase his vocal talent and musicality. 
Harry manages to say "nice job" in between audience screaming. He loves that Clark has sung two slow songs back to back. Keith tells a corny joke and then says "that was fantastic." Jennifer puts him on the spot by asking who "she" was that he was singing to. Clark demures and doesn't answer. SMART MOVE, CLARK.
Simon Fuller's choice for Nick Fradiani is "I Won't Give Up" by Jason Mraz. Nick plays the piano, which I think is a new development for him, and probably not a smart decision given Clark's ability to play. This isn't Nick's best. Vocally, it's okay, but sitting down to sing isn't a good move for him. The crowd likes it when he's on his feet and they aren't as raucus after this.
Keith loves Nick's heart. Jennifer can't choose between the two of them and calls it another strong performance. Harry says Nick's strongest thing is how he just lays it all out there.
ROUND THREE: Idol Single
If Clark Beckham wins American Idol, he'll release a song called "Champion." It's pop-y and sort of overly celebratory like all the other Idol finale songs, but Clark could sing the phone book. The mixing on this is really crazy with the band and backing vocals being crazy louder than Clark, but he left it all out there to try and win.
Jennifer said he sounded great on it. Harry says it's JUST NOW getting interesting and it was clear that it was a new song so this is when it gets exciting. Keith loves how inspiring the song is. 
Nick Fradiani​'s winner's song is titled "Beautiful Life." Nick's finale song is...talk-y. The chorus is definitely lyrical and driving, but there's a great portion of the song where it feels like the key is too low and he's just speaking the lyrics. Neither of them were able to put their own spins on these songs or play instruments so in that regard the playing field is level, but the finale songs fell short of awesome for both guys.
Harry really enjoyed it and thought Nick got lucky with a song tailor-written for him. Jennifer loved that he was in awe of the moment but kept singing. Keith said "bullseye, man."
This finale is going to be REALLY CLOSE. Super close. Nick and Clark aren't the same kind of musicians, so it's hard to compare them to one another, but that's what we have to do.
Which contestant do we like best at the end of the night? Keith gives Nick Fradiani​ the edge by a narrow margin, but I'm holding out hope for Clark Beckham. 
We'll find out tomorrow night during the American Idol Season 14 finale.
Miranda Wicker was a Staff Writer for TV Fanatic. She retired in 2017. Follow her on Twitter.