Castle Season 7 Episode 22 Review: Dead From New York

Christine Orlando at . Updated at .
There were so many things to love about Castle Season 7 Episode 22 that it's hard to know where to begin, so I'll take the easy route and start from the beginning. 
Martha sitting in the loft spending her morning saying nothing but, "Is he dead?" was so very Martha Rodgers, but perhaps even better was the look on Kate's face when Rick explained what his mother was doing.
Martha says only the first line of her opening performance for the 48 hours before the show. Kate's, "That's unique," was quite the understatement.
Be honest, when you vowed for better or for worse you really had no idea what you were agreeing to, did you?

Rick Castle
I couldn't help but laugh when Castle explained how the first line from another play, "Come on baby, I'll make it worth your while," made for his most awkward parent/teacher conference - ever. 
The backdrop of the sketch comedy show "Saturday Night Tonight" made for a lot of fun moments. We learned that Beckett loved the "fluffy the space puppy" sketch while Castle's favorite was "Dr. Finger," which I'm assuming was a nod to Dr. Horrible's Sing-a-long Blog. Kate's response about not liking Dr. Finger because she was never a 13-year-old boy was spot on. 
The Castle/Beckett spoof was unexpected and I love that Beckett was asked how she keeps her hair perfect and runs in heels. Two things most real fans would like to know as well. 
This episode had several guest stars. Jaleel White (Family Matters) played the crazy but not-so-crazy comedian Mickey Franks, whose puppet attorney was almost as funny as Beckett and Castle's reaction to it. 
Danny Valentine was played by Gregory Harrison (Trapper John, M.D., Reckless) and as I'm a big fan myself, I couldn't really scold Beckett very much for flirting back with the handsome actor. However, I thought Castle was completely justified when he stepped up and pushed Danny back a couple feet from Kate, thus marking his territory. How many times in the past do you think he's wanted to do something like that? Now, as her husband, he's allowed to put the "smug, no talent, playboy" hitting on his wife in his place. 
But it was Chad who had my favorite reaction to being framed for murder when he told Beckett that the items found under his bed, "Must have been an evil tooth fairy who put it there because it wasn't me."
We were even blessed with another "I know who the killer is" moment between our dynamic duo. We haven't seen one of those in a while. 
As much as I enjoyed the murder investigation – and Carly Rae Jepsen's singing – my favorite moments all went to Martha and Castle. 
Martha's stage fright was a natural response to not having been on a Broadway stage in two decades, and she was right, a lot has changed. It used to be that only regular theater goers and some critics sought out the preview shows before opening night. Thanks to modern technology, they can be seen and critiqued by almost anyone. That has to be intimidating. 
In her dark moment when she considered quitting, it was her son who brought Martha back to the light, and her natural fighting spirit in this Castle quote…
Oh, absolutely not! You will not and do you know why? Because you're a fighter. What have you always told me? No one will give you anything in this life. You must earn it and look at you. Almost 20 years later and you're back on Broadway. You have earned this.

Rick Castle
So very true. I have no doubt that Martha Rodgers was amazeballs, much like this episode.
Check out our Castle round table and then check back in next week for our review of Castle Season 7 Episode 23, the season finale and if you can't wait for more, you can always watch Castle online here at TV Fanatic.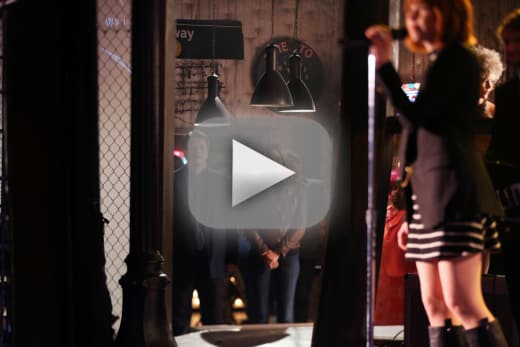 C. Orlando is a TV Fanatic Staff Writer. Follow her on Twitter.