Rick Castle once joked about writing murder mysteries because he came across a dead body. In Castle Season 7 Episode 23 he reveals that the joke wasn't very far from the truth. 
Turns out an 11-year old Rick stumbled upon a dead woman in "Hollander's Woods" and a masked killer who threatened him if he ever told a soul.
Despite calling the police, the woman's body was never found and Castle began to think the event never actually took place. That was until a current body and a creepy figure in a mask directly matched his memories.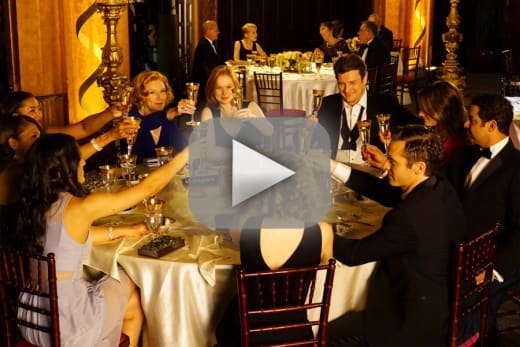 With Kate Beckett by his side, they searched for a murderer who had been killing for decades and although Castle never saw his face, it was his voice he never forgot.
Elsewhere Kate Beckett had a mysterious meeting and an interesting offer concerning the future of her career. Would she decide to follow a new path and will that path take her away from the NYPD. 
Finally Rick Castle was awarded a special career achievement award giving him the opportunity to thank his family and friends, most especially his wife. She walked into his world seven years ago and changed his life for always.
You can watch Castle online any time here at TV Fanatic. 
C. Orlando is a TV Fanatic Staff Writer. Follow her on Twitter.