Claire Holt Previews Rebekah's Originals Return, Season 2 Finale
Jim Halterman at . Updated at .
Will the Mikaelson siblings prevail?
That's the big question going into The Originals Season 2 Episode 22, as Klaus, Elijah and Rebekah square off against Dahlia once and for all.
And we're referring to the original Rebekah, as Claire Holt returns tonight to reprise the role she made famous on The Vampire Diaries.
But could we see Holt beyond the season finale? Said Holt in an exclusive interview with TV Fanatic last week:
"All I know is that Maisie did such an awesome job of portraying Rebekah and it was just very exciting for me to be able to step back in her shoes for awhile."
Of course, the definition of awhile is open to interpretation.
"Whether it's permanent or whether it's temporary or whether we'll see Rebekah again, I won't say," Holt teased, "But it was certainly a cliffhanger, to say the least. At the end of the season a lot of loose ends are tied up."
Holt added that she needed to catch up on all the crazy happenings in New Orleans before stepping back into Rebekah's blood-sucking shoes.
"I have to sit down with the acting coach and go, 'Okay, fill me in. I read the script. I only understand half of it, so I need you to tell me what happened.
"I need you to tell me where we're at in the story, and what I've missed so that I can kind of get up to speed,' because there's a lot of mythology and a lot of stories and plotlines that I wasn't around for."
Besides getting up to speed, Holt expressed how happy she was to be back.
"It was awesome," she said of her return. "I love those boys and everyone was sort of excited because it was the last week of school that we were doing the finale so they were all going to have some time off to spend with their families, which is really nice.
"But it was great to see everyone. I always love going back."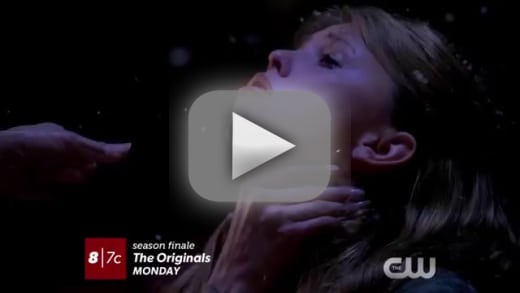 And that seems to be the same situation when the Mikaelsons - who are often literally at each other's throats - come together to fight an adversary.
Of the siblings, the actress said with a laugh: "We've kind of got something of a family unit in the dysfunctional way that we do."
However, with the finale trailer showing that brothers Klaus and Elijah may never be able to get back in good graces with each other, what about Rebekah's future? The finale episode may or may not give us a full answer.
As for her new role alongside David Duchovny, Grey Damon and Gethin Anthony in Aquarius, which premieres on NBC on May 28, Holt is not only playing an American but a cop in the late 1960s (when equal rights for women were very different) dealing with Charles Manson.
Of going from her new character, Charmain, back to Rebekah, Holt said:
"It's definitely difficult from being the Los Angeles Charmain to being the British original vampire, Rebekah, but it's really fun. It's a treat."
(More on the Aquarius side of our interview will be posted closer to the Aquarius premiere).
The Originals Season 2 airs Mondays at 8/7c on The CW.
Aquarius premieres on NBC on May 28 at 9/8c. 
Jim Halterman is the West Coast Editor of TV Fanatic and the owner of JimHalterman.com. Follow him on Twitter.