We're just one week away from the semifinals!
On Dancing With the Stars Season 20 Episode 9, we were finally given a proper results show that even included an encore performance.
There was also a special performance by Carly Rae Jepson. By the way, did anyone else have flashbacks to Castle Season 7 Episode 22 from last night? She even sang the same song as she did on that episode! Later in the night, Josh Groban also performed with his rendition of "Somewhere Over the Rainbow."
Rumer and Val's trio dance with Artem was chosen as the encore performance of the evening, and with good reason. Rumer and Val earned the first perfect score of the season on Dancing With the Stars Season 20 Episode 8, ending the night with a perfect 80.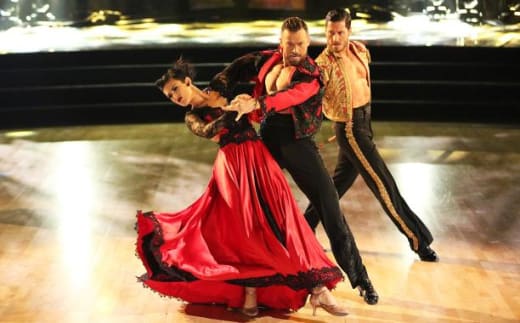 Riker and Allison and Nastia and Sasha/Derek also found themselves near the top of the leaderboard last night, while Robert and Kym landed at the very bottom.
So, who made it to the semifinals, and who was eliminated?
Robert and Kym were the first couple announced to be leaving the competition, and we're definitely sad to see them go – particularly because Robert was always so enthusiastic!
Tom Bergeron said it best, though, when he told Robert that even though he didn't win the Mirror Ball Trophy, it seemed as though he had won someone's heart. It does seem obvious that he and Kym have developed some sort of relationship, but Robert was coy in his answer.
The second couple eliminated this week was Chris and Witney. Despite being very much improved, Chris didn't improve enough to make it to the semifinals, and he made an emotional exit.
What do you think of this week's double elimination? Were the right two couples eliminated? Share your thoughts in the comments below!
Here are the scores from this week's competition!
Rumer and Val: Rumba (40) and Paso Doble (40) – Total of 80
Riker and Allison: Viennese Waltz (39) and Jazz (39) – Total of 78
Nastia and Derek/Sasha: Paso Doble (36) and Jive (40) – Total of 76
Chris and Witney: Contemporary (34) and Paso Doble (30) – Total of 64 – ELIMINATED
Noah and Sharna: Tango (31) and Salsa (32) – Total of 63 
Robert and Kim: Contemporary (33) and Samba (29) – Total of 62 – ELIMINATED
Ashley Bissette Sumerel was a staff writer for TV Fanatic. She retired in September 2017. Follow her on Twitter and on Google+.