It's the Semifinals, and the competition is getting intense.
On Dancing With the Stars Season 20 Episode 10, there were captivating dances, surprises, and emotional moments.
What's exciting about this stage of the competition is that all of the dances are strong, and the stakes a bit higher, the entertainment value goes up as well.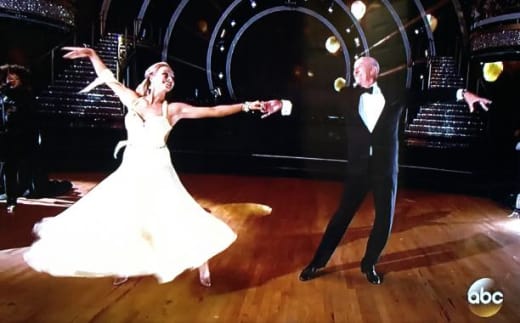 I'll get to the best dances in a minute, but first, let's talk about the bold, sweet moment for Noah Galloway.
That's right. After performing his Viennese Waltz with Sharna, with Erin Andrews holding her microphone in the background, he asked his girlfriend to marry him. Hey, you never know what will happen on live television! Congrats, you two!
Honestly, all of the dances were phenomenal, but Riker and Allison were the stand-outs this week. Both dances were completely captivating, especially their contemporary routine. Riker moves with a certain force and energy, and he also seems to be unafraid. He just goes for it every time. I've said more than once that I thought Rumer and Val could take this whole thing, but I'm starting to think Riker and Allison are the ones to beat instead.
The second round of the competition was a new concept. Each judge worked with a different couple, choosing their dance style and concept as well as coaching them through the routine. Two of them even put on their dancing shoes to join in.
Noah's Paso Doble was powerful. It never fails to impress me how his dances are choreographed, and having other dancers assist him for new moves on stage was really interesting to watch.
For another emotional moment (who knew we would need so many tissues?!), Len danced at the end of Nastia and Derek's routine. This was, hands down, the best moment we've ever seen on Dancing With the Stars. Len wasn't able to do as much as he would have liked, but his willingness to get on the dance floor, and the way he was incorporated into the routine was beautiful.
It also serves as nice send off since this is, unfortunately, Len's last season on the show.
By the way, I'm glad everyone got perfect scores for the judge's round, not only because they deserved it, but also because it would have been awkward! What if they had given a low score to Len?
Overall, it was entertaining night of competition. and I'm looking forward to another results show tomorrow night. I think the night felt a little slow, though it was time to focus a little more on the contestants.
What did you think of the Semifinals? Which dance was your favorite, and who do you think will be eliminated tomorrow night? Share your thoughts in the comments below!
Here are this week's scores!
Riker and Allison: Contemporary (40) and Argentine Tango (30) – Total of 70
Nastia and Sasha/Derek: Quickstep (40) and Viennese Waltz (30) – Total of 70
Rumer and Val: Viennese Waltz (38) and Contemporary (30) – Total of 68
Noah and Sharna: Viennese Waltz: (36) and Paso Doble (30) – Total of 66
Ashley Bissette Sumerel was a staff writer for TV Fanatic. She retired in September 2017. Follow her on Twitter and on Google+.