Elementary Season 3 Episode 24 Review: A Controlled Descent

Tanya Moat at . Updated at .
Sherlock went back down the rabbit hole on Elementary Season 3 Episode 24 after his former drug dealer kidnapped Alfredo. 
We met Sherlock as he began his recovery with Joan by his side. There were plenty of times where he faced temptation and his sobriety was tested, but he always managed to keep a tight leash on his demons. It appeared he finally gave in to those demons tonight.
Oh, Sherlock. You're breaking my heart.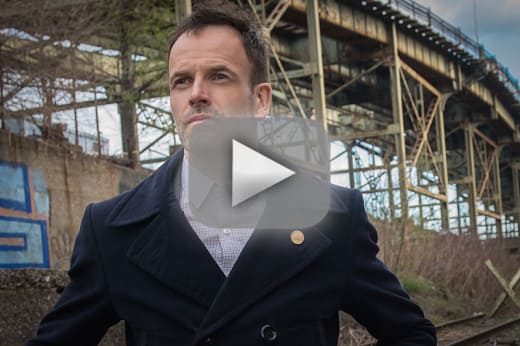 A solid season finale that laid some interesting groundwork for next season. Jonny Lee Miller, in particular, did some great work. You could feel his barely controlled anger and when he did fall, he fell hard.
Oscar, his former drug dealer, resurfaced tonight and brought with him misery and temptation. Everyone was scared about Sherlock relapsing, but he was confident he wouldn't. 
I'm no closer to using today, than I was yesterday.

Sherlock
I believed him too. He was too focused on the mission to relapse. Alfredo's life hung in the balance and Sherlock needed a clear head. I never thought about afterwards. Maybe he would have been okay if Oscar had not been so particularly vile.
He wanted the great Sherlock Holmes to fall. To see he was just like Oscar, an addict, dumb and despicable. 
Sherlock is an addict, but he has worked hard to stay sober. Thanks to friends like Joan, Gregson, Bell and Alfredo, he had been able to stay strong. To use his purpose and skills to stay clean. 
Oscar used those friendships and talents to deceive him.
A junkie in the city is like a needle in a haystack. That's a job for Sherlock Holmes.

Oscar
I am a little shocked that a heroin addict was able to put together such a coherent plan as Oscar did. He hide Alfredo well and kept Sherlock on his toes. 
He repeatedly took Sherlock to places where drugs were readily available, but Sherlock resisted to Oscar's surprise.
Oscar: Wow. You're, like, cured now.
Sherlock: That's the dumbest thing I've ever heard you say. And I've known you for a long time.

Oscar might be dumb, but he also had Sherlock's number. He played him. He knew where his sister was the whole time. She died from an overdose. In his guilt, sadness, rage or all of the above, he blamed Sherlock. Was that logical? No, but absolutely plausible given Oscar's drug addled brain.
Sherlock and Oscar were once buddies and fueled each other's addiction.
Oscar: I was good to you, Sherlock. I was your friend.
Sherlock: You were a cancer to me, Oscar. And I to you.
Things changed. Sherlock got clean; Oscar didn't. He wanted Sherlock to join him again. To follow his sister's last desperate acts and turn to drugs as she did. 
When you realize this is where you belong. In a place like this, Sherlock. WIth people like me. I was going to be there to watch you fall. Why do you keep fighting it, huh? Why put yourself through this? We both know it's just a matter of time. So why not just cut to the chase?

Oscar
When he tossed Sherlock some drugs, I wasn't worried. Sherlock was stronger than weak Oscar. When Bell and Watson found Alfredo alive, I knew Sherlock would walk away with his sobriety intact. Sure, he might have beat the crap out of Oscar (and I possibly cheered) but who could blame him, right?
He did walk away from Oscar. But first, he dropped his phone and connection to Joan, then he picked up the drugs. He walked towards the tunnel and back to drugs and death. 
Damn you, Oscar. You did make him fall. I hope Sherlock killed you.
Okay, I'm not that mad. I don't want Sherlock facing murder charges, although we don't actually know Oscar's condition. He claimed his health was fragile, so it is possible that Sherlock did do some permanent damage.
What we do know is that Sherlock's father is coming next season. As the "Previously On" so helpfully reminded us, Sherlock's father would stop all financial support if he used again. While it wasn't made explicitly clear that he had relapsed, it seemed highly probable given his blank stare and disheveled state. At bare minimum, all is not right in Sherlock's world.
What did you think about the season finale? Were you surprised by Sherlock's relapse? What changes would you like to see next season?
Don't forget you can watch Elementary online via TV Fanatic whenever you need a Holmes and Watson fix.