Once Upon a Time Season 4 Episode 21 Review: Mother

Christine Orlando at . Updated at .
Sometimes we just have to get out of our own way to find our happy endings.
That's what several characters realized in Once Upon a Time Season 4 Episode 21, but will it do them any good now that Rumpel has the Author writing his own special fairy tale?
In the Enchanted Forest of the past, Cora popped back up claiming to help Regina and for a moment, Regina seemed to believe her, or at least she wanted to. Regina always holds out hope that Cora will act like her mother, but the woman is far too selfish for that. 
The most shocking moment was when Regina drank that potion ensuring that she'd never have children. It was a horrible moment that would have felt all the worse if we didn't know how much she loves Henry. 
Back in the present, Regina and Robin had a serious conversation. He'd moved on with whom he thought was his wife because he believed he had to. To his credit, his first concern was how Roland would react to finding out his mother was actually dead and an imposter had been masquerading as Marian. As a parent, Regina immediately understood his fear for his son and offered a spell to erase all memory of Marian coming back. I agree that it was probably the best solution for the boy.
If only the rest of us could forget Zelena. 
When Rumpel showed Regina the quill, I wondered if it was part of a strategy to get her to make the ink since he was too weak to get the job done. I'm still not sure if that was the case or just a consequence. 
Leave it to Regina to figure out that Lily must have dark savior blood running through her veins and I love how unaffected she was by Lily's snarky attitude. Little did Lily realize, she was speaking to the Queen of Snark. 
Even the Author had to admit in this Once Upon a Time quote that Regina has consistently gotten a raw deal…
The Author: Of all the characters I've written for you really do get screwed over the most.
Regina: I'm well aware.
But Regina finally figured out that the way to get her own happy ending was to act the least like her mother and do nothing at all, except perhaps keep Zelena locked up!
My happy ending is finally feeling at home in the world. Robin is just a part of that world.

Regina
Maleficent got to meet her daughter after a waiting decades. She looked equal parts thrilled and near tears. Lily was a little more apprehensive. 
After turning into one bad ass dragon, Lily finally seemed willing to listen to her mother. She's been letting people down her entire life, but I don't think she'll have that problem here. Besides, it sounds way more fun to learn how to fly than to bother with the Charmings.
Hook and Emma had a wonderful scene as they watched the horizon, shared some rum and Hook tried to convince Emma to forgive her parents for being human. I'm thankful it worked. Emma's anger was understandable at first, but it was beginning to make her look like an insolent teenager holding a grudge. 
Finally, it appeared that Rumpel got his way as the Author began to write the villains as heroes and the heroes as villains. Which do you think will be more fun to watch?
If you can't wait for next week's season finale for more of the magic, you can always watch Once Upon a Time online here at TV Fanatic.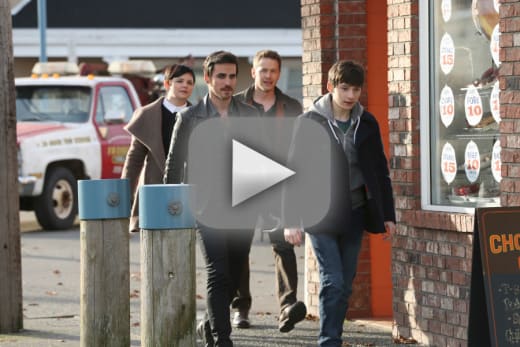 Here is your first look at the Once Upon a Time Season 4 finale: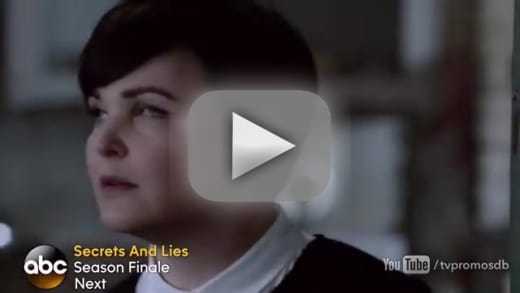 C. Orlando is a TV Fanatic Staff Writer. Follow her on Twitter.