Outlander Season 1 Episode 13 Review: The Watch

Carissa Pavlica at . Updated at .
Jamie walking away from Claire in slow motion is never a good sign.
Yet that's the most pivotal moment of Outlander Season 1 Episode 13 and the one that led to us hanging at the very end, thanks to that dead bastard Horrocks. Then again, if Horrocks was still alive, it's quite possible Jamie would be safely at Lallybroch.
We'll never know.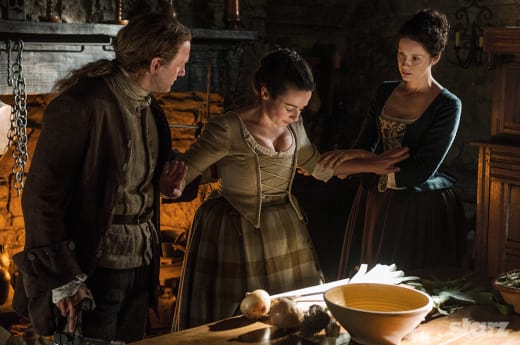 Outside of the doom and gloom of Jamie's disappearance, there were a lot of bonding moments this week and they are, without a doubt, what really drive Outlander. The character driven conversations manage to hit in the gut, and my chest tightened up quite a few times over the hour.
It's hard to imagine exactly what you would do for family, but these characters are continually challenged with that very question. The never fail to pass the test with flying colors.
Whether it was Jenny covering for Jamie with MacQuarrie and the Watch, Claire stepping up her obstetrician skills to ensure the safety of Jenny's baby, Jamie content to give up children if it means keeping Claire safe or Ian driving a sword through Horrock's chest to save Jamie, their swelling hearts of love for one another never cease to amaze me.
There were some standout scenes, of course. 
The scene when Jenny was explaining what it feels like to carry a child was amazing. It's making me well up a little right now. As someone who never experienced a full pregnancy, I felt kind of grateful that someone was willing to share so intimately what it meant to them and how it felt.
Yes, it's a TV character, but someone wrote the scene, so I have to expect there's some truth behind it. 
The way Jenny noted the early fluttering like a fish tugging on a line and then gone, almost as if you didn't know it was there, and the look on Claire's face as she stared out wistfully, wondering if she would ever have her own children was really beautifully done.
Except it got better. It was really tasteful the way Jenny's pregnant figure was filmed through her gown to show it's beauty while she continued.
And towards the end, when the child moves a lot, it's a feeling like when your man's inside you? When he comes to you deep and pours himself inside you and that throbbing begins? It feels like that, only much bigger, like it's him yearning to get inside. That's what they want sometimes, you know. They want to come back.

Jenny
Jamie's decision to pay off Horrock's wasn't taken lightly, and it was simply lovely of Ian to suggest using his inheritance to do it. Of course, rarely do creeps like Horrocks stop at a simple blackmailing and something inside of Ian must have been reminded of that after the fact, urging him to follow Jamie into the woods.
Thankfully, Horrocks may have been able to brag how well the Irish old their liquor, but even he didn't hear a one legged man thumping his way through the grass and was skewered by Ian, keeping Jamie from another notch on his belt.
Did you see the way Ian was shaking after doing it? Pure love caused that adrenaline rush, as well as the kill. 
Jamie: Remember, we used to argue which was the bigger sin, fornication or killin' and worry whether we would go to hell?
Ian: Well, if you're goin' to hell, I might as well go, too. God knows you'll never manage alone.
Jamie: Go get the shovel.
Proving once again how amazing people can be and just how they can surprise you, MacQuarrie didn't flinch when he learned Jamie killed Horrocks (Jamie took the fall for Ian, of course). Instead, he said the bastard deserved it more than anyone else he could imagine and only wished for Jamie to join him.
Do you think he would have forced the issue if Jamie wouldn't have gone willingly? He might have, but Jamie knew he had pushed his luck over the last couple days and made what he thought was a relatively easy, wise and family-oriented decision.
He couldn't have know he would come to respect MacQuarrie or that Horrocks had already sold the Watch out.
It's not at all surprising that Jamie wouldn't leave MacQuarrie behind and he's more the man for it. But the the thought of Black Jack Randall getting wind of his good fortune at Jamie being held captive prisoner once again is enough to make your stomach churn.
Bits -n- bobs:
Jenny and Ian have learned along the way when to speak. Both held up so well when MacQuarrie entered their home and there wasn't a chance Jamie would be given up.
The scene on the front steps with Claire and Jenny was also very sweet with the bracelets and confusion upon her face upon Jenny receiving Claire's kiss. She hardly knew how to accept it. Knowing a woman seems so foreign to her.
If Jamie and Claire hadn't moved home, Jenny would have died in childbirth. Jamie questioned whether their return had been wise in hindsight. Absolutely. It was necessary!
Maybe a tipsy baby would be easier to turn around if it was breech. (I'm just theorizing, don't get upset.) There weren't drugs to help, but it would calm the little soul to stop fighting the disturbance! ;-)
How long until Jamie gets to see Margaret Ellen Murray? Hopefully Maggie won't be as grown as little Jamie before they meet.
With all the baby talk, is there any chance that as Jamie was taken away Claire was already pregnant? He'll have to give Sawny the snake to his own child someday.
The power couple that are Jenny and Ian have kept me from missing those at Castle Leoch, but I wonder if they might not come to Jamie's aid soon. 
How worried are you for Jamie? How long will it be before he returns to Claire? I'm so excited we've been having conversations lately. Let's keep them going!
Carissa Pavlica is the managing editor and a staff writer and critic for TV Fanatic. She's a member of the Critic's Choice Association, enjoys mentoring writers, conversing with cats, and passionately discussing the nuances of television and film with anyone who will listen. Follow her on Twitter and email her here at TV Fanatic.