From FBI agent to one of the FBI's most wanted.
I was curious about Liz's fate going into The Blacklist Season 2 Episode 22. We had learned that she was being set up by the cabal in The Blacklist Season 2 Episode 21, but I wasn't sure if she would get to clear her name by the end of the hour.
Unfortunately for her, she didn't, and she also killed Tom Connolly and learned that she killed her father when she was little.
This was not a happy hour for Liz.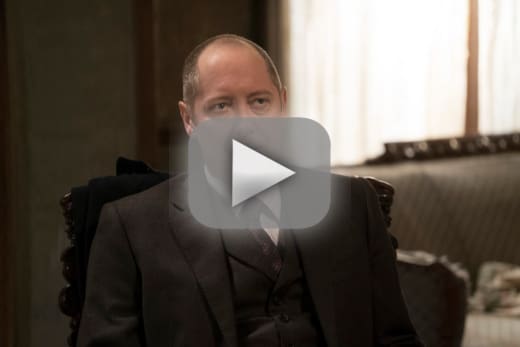 The interesting thing is that after the continuation of Red not telling Liz the truth, I thought Tom would wind up being the guy she ends up leaving with.
While she did go to him for help, and he was able to be her partner in the car chase and gun fight, it was Tom who ultimately told her not to stay with him.
Clearly those two reconnected, but Tom knew Liz wanted to learn about who she was and he wasn't going to prevent that from happening.
I'm sure that's not the last we've seen of him though.
Instead, Liz wound up returning to Red, the man who has been trying to protect her all these years.
It was a decent twist that it wasn't a secret about Red that he was trying to hide but rather that Liz was the killer of her father. While that reveal did allow her to get closer to Red emotionally, recognizing his care, it didn't quite answer the why.
Why were her parents fighting and what really was Red's connection to it all? There's still much more to this puzzle. I'm hoping that Red and Liz running away together will help uncover more of that truth.
But I was surprised that Liz killed Tom Connolly, especially after Harold tried to intervene. It seemed like everything was sort of building on itself, what with Tom Connolly saying how he was going to essentially bring her whole team down, and then mix that with her flashbacks.
I think the shooting even shocked her a bit.
It's certainly set the series on an intriguing trajectory, putting her on the run. It makes me wonder how long that will actually last, how long Ressler and the FBI team will try and hunt for her.
What exactly will The Blacklist Season 3 look like?
Will Harold even be involved anymore? His position in charge is no more, but I was glad to hear that he was actually cancer free. What a nasty blackmail by the cabal to trick him into thinking he was sick and then giving him drugs that he thought were making him better.
Plus, I loved seeing Harold really get involved in the action from teaming up with Red and helping guide Liz out of the headquarters to going with her to confront Tom Connolly. And we also got a great moment with him and Liz just talking to each other in the car that really captured their relationship.
Unfortunately, I found Red's plan to reveal the cabal's secrets to a bunch of journalists to be rather anti-climactic. I get that the press has the power to put that information out there, and we do see that by the end of the hour, but it just didn't have the same impact that Red's big plans usually have.
At the same time, the episode seemed to spend a decent amount of time trying to figure out how Liz was able to pass on the virus to the senator that eventually killed him. That was something I thought we had pretty much figured out last episode, but I guess the FBI team needed to catch up on that info.
I really liked that montage of events at the very end set to Elton John's "Rocket Man." The music on this show is always fantastic, and this particular song really coincided with everything going on, with Liz being on the run.
I'm glad that not everything was wrapped up perfectly, and I'm looking forward to the new direction the show seems to be headed. It wasn't necessarily as riveting for me as say the penultimate episode, but it was a solid finale just the same.
What did you think of the finale? Were you surprised by Liz killing her father? Sound off below, and be sure to catch it all again when you watch The Blacklist online.
Sean McKenna was a TV Fanatic Staff Writer. He retired in May of 2017. Follow him on Twitter.