The Messengers Season 1 Episode 3 Review: Path to Paradise

Amanda Steinmetz at . Updated at .
Good things come to those who wait.
Well, this may be true for some people, but Vera and Raul may feel differently.
On The Messengers Season 1 Episode 3, the group focused on finding the Horseman of War, but it was Vera and Raul who took center stage.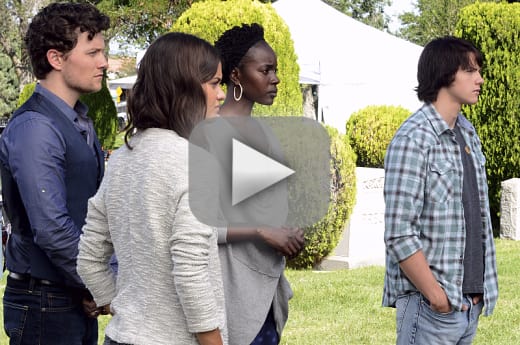 Vera's gift has been revealed, and it's.... spirit walking. 
Now I don't necessarily have a problem with this because it could come in handy. However, I'm trying to figure out the difference between spirit walking and astral projection. 
Are they different, or are they just giving it another name?
I'm enjoying the quick pace of the show. I certainly wasn't expecting to meet Michael's dad this early on. To Vera's surprise, Leo didn't leave her for another woman like he told her. He left her because he had Huntington's disease. 
Obviously Leo will find out she had his child, but I'm more curious as to how Huntington's disease will factor into the story with Michael. It's hereditary, so there's a good chance he will have it. 
I'm definitely liking Vera more and more. Despite seeing her wings at the end of The Messengers Season 1 Episode 2, she was still trying to ignore the mission and focus on her son.
My son is still missing, and apparently I'm trapped in an episode of Touched by an Angel.

Vera
I think she's definitely ready to get onboard with the mission now that she's discovered her gift.
She'll have to clue in Alan at some point. I don't think he can handle her dying on him a third time! 
Raul's gift came in handy when trying to find his brother. Unfortunately, he was lured into a trap set up by El Jefe and the Devil. I have to admit I really liked the visual of the Devil walking toward Raul through the fire.
It was a great moment for Raul to realize that protecting his family and stopping the Devil aren't mutually exclusive. The Devil is everywhere.
However, The Devil isn't all knowing since neither the group nor he can figure out who the Horseman of War is. Right now, our two candidates are the Prime Minster or the Senator.
I'm interested in learning more about the Devil's powers. He clearly can't kill the angels himself, but why? Why was he cast out of Heaven, again? 
The other big development of the night was the mysterious piece of the meteor. It contains all of the elements known to man, but with one unknown element. 
It also made a plant grow blue flowers and turned an apple into dust. What the hell is that thing?!
I'm excited to see how the meteor will factor into the story. Those scientists are putting the pieces back together and those pieces reveal the outline of the Devil's body. 
The show improved once again from the previous episode, but the dialogue can still use a lot of work. I'm also still not sold on the Erin character (I looked up Sofia Black D'Elia online. She's only 23!). 
I'd also like to see Peter do more than look things up on Google. I'm sure we will see more now that he's been arrested for murdering Sam. 
So over to you guys! What did you think of the episode? Does the meteor have its own powers? Is the Horseman the Prime Minister or the Senator? Will Vera tell Leo about his son? What are your predictions for The Messengers Season 1 Episode 4? 
Sound off below, and don't forget you can catch up on any missed episodes when you watch The Messengers online via TV Fanatic! 
Amanda Steinmetz was a staff writer for TV Fanatic. She went into retirement in June of 2027. Follow her on Twitter.