The Originals Season 3 to Introduce New Mythology, New Arrival
Matt Richenthal at .
Color us impressed.
Despite the twisty and turny nature of The Originals, this CW smash did not go out with a cliffhanger last night.
It did not conclude The Originals Season 2 Episode 22 with any shocking development, simply leaving viewers with a Klaus narration set against the backdrop of where various characters stand after the latest chapter of the Mikaelson family saga.
That's the sign of a confident television show.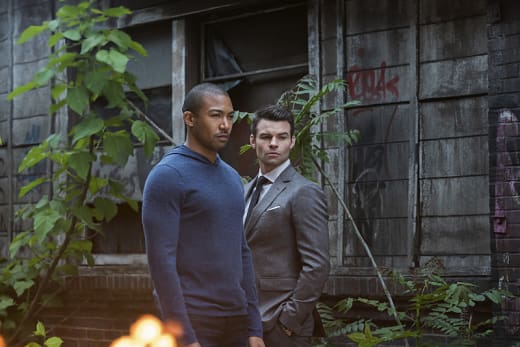 Speaking to Entertainment Weekly, executive producer Michael Narducci said he and his team didn't want to throw too  much "new information" at viewers at once toward the end, choosing instead to focus on the "beauty of the moment" between Klaus and Hope.
We love the decision.
But that's in the past. What's in the future?!? Narducci also offered up some hints regarding The Originals Season 3:
New mythology on tape: "When we are finally able to reveal what's happening, it should make a lot of sense and feel like the next stage in what this family will need to go through and deal with. It's pretty frightening and we're having a lot of fun with."
Yes, Claire Holt will return: "Claire is awesome. We love her very much and we want to have her on the show whenever she's available. We plan on using her in a very interesting flashback story and we would love to see her at some point reclaim Rebekah's original body."
What will Freya be up to? "She is going to make good on her promise to help that child grow and have control over herself. Even though Hope is a first-born Mikaelson and has a lot of power as a witch, Freya too is a first-born Mikaelson and might be just the person to help Hope figure out who she is and how to grow up and be a healthy person.
(NOTE: Riley Voelkel has been upped to series regular.)
What about Vincent? "We're definitely going to explore a lot of stuff with Vincent. We're going to see his past and where he's from and why he's such an interesting character: What led him to walk away from magic, why he feels obligated to remain in New Orleans and be a part of everything that's going on in his city."
Someone is coming! "There is going to be a new arrival into the town of New Orleans, and I think that it's going to highlight Marcel's special relationship with this family in a way that's going to bring Marcel back to the forefront."
Matt Richenthal is the Editor in Chief of TV Fanatic. Follow him on Twitter and on Google+.