The Real Housewives of Atlanta Season 7 Episode 25 Review: Reunion Part Three
Miranda Wicker at . Updated at .
We've finally reached the finale of all things ATL. Tonight on The Real Housewives of Atlanta Season 7 Episode 25 NeNe Leakes might just have a repeat of her infamous group therapy session exit when Andy Cohen brings Dr. Jeff to the couches.
Or she'll make up with Cynthia Bailey after their multi-season feud. Or maybe she'll do both. Let's get this party started and find out.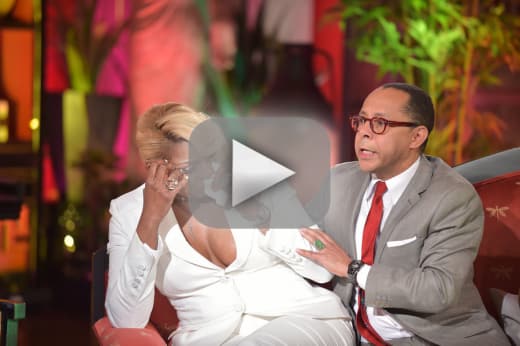 NeNe Leakes still continues insisting she's never flirted with Peter. Peter agrees. They have similar personalities but they've never been inappropriate. 
Peter thinks Kenya is owed an apology from everyone in the group because she's been just a playful kind of person. Interesting. 
He's also quite unhappy with Porsha running her mouth about his supposed cheating. If he's going to cheat on Cynthia, it's going to be with someone big. Like J.Lo or Beyonce. Plus...5?
Talk turns to Todd and Kandi and their rocky first year of marriage. Andy starts the segment by asking when they last had sex. Two days ago. Plus 10. They're still working on making a baby.
Todd's mom suddenly passed away late last year from a stroke. She died alone in her apartment and was there for over 12 hours before the neighbor found her. Gregg spoke at the funeral and Phaedra made sure Mama Sharon got the services she deserved even though she couldn't be there. Plus 8.
Mama Joyce has since apologized again and Todd has accepted it. 
Todd has a wedding ring to match each watch. For real. Minus 10.
Gregg's final thoughts: "Faults are like headlights on a car. You can only see the other person's." 
If that came from anyone other than Gregg it would be fantastic. Coming from Gregg it's super hokey and cheesy as hell. Minus 4.
Now we're talking about NeNe and Cynthia who've gone from sisters to stay-away-from-me. Andy doesn't get why their friendship ended. Neither does anyone else either. 
After listening to NeNe and Cynthia both share their stories, I'm still not even sure I understand what happened. It's a bunch of she said-she said and Gregg and Peter fighting and Cynthia didn't like the shade NeNe threw on her blog and wow, ladies. Wow.
Cynthia says she doesn't want to be enemies with NeNe. NeNe thinks that Cynthia put out to the viewers that she wasn't a good friend. NeNe wishes Cynthia well. It's pretty clear that NeNe is still pretty hurt about whatever's gone on between the two of them. 
Porsha got herself a whole new body after divorcing Kordell. She "done twerked her way into happiness." Plus 2. 
Kandi thought Claudia won the battle with NeNe in Puerto Rico because she was so quick on the comebacks. Claudia still doesn't accept NeNe's apology. 
NeNe gets called out for calling Claudia a half-breed in Puerto Rico. NeNe apologizes to the viewers but not to Claudia. Minus 20. 
Apparently NeNe suffers from a blood clot issue and has nicknamed herself Clotisha. That was her reasoning for not going to the Philippines. The girls had a great time without her.
Kenya and Phaedra apologized in the Philippines but they're apparently not on great terms now that they're back in the states. Oh well. 
To close the season, Andy brings up the counseling session NeNe scheduled with Dr. Jeff. Kandi laments the phrase "do the work" and rolls her eyes that they're going there. 
Dr. Jeff is on the couch now. Here come some fireworks. Plus 10.
NeNe maintains that starting the session by letting all the women dump on her to begin the session was unfair. Dr. Jeff says he started the session that way because that was her opportunity to open up to the other women and have an exchange with them and she didn't go there. 
She has abandonment issues and so do some of the other women. It was a point where they could've all bonded.
While Porsha and Kandi talk about the session, NeNe sits on the couch and tries not to cry while the women just keep shouting and no one wants to listen. Which is the problem with these women all the time. No one wants to listen.
Cynthia is the first one to say to NeNe that she's proud of everything NeNe has accomplished in her life despite her upbringing. Kenya wants her to know that they don't want to be against her. They want to be with her, but she doesn't let people in. 
While Kenya's talking, NeNe just whispers "I can't" and walks away. She doesn't want to talk about her mom. Porsha and Dr. Jeff and Phaedra help her off the stage with Cynthia following close behind her. Claudia can't believe she's walked out of another group session. 
After talking to Porsha, Gregg, and Cynthia, NeNe's ready to do her makeup and go back inside. Plus 15. Andy shows up outside the bathroom and asks what NeNe's story is.
NeNe's mom had five kids when she was young and she couldn't raise all of them so she sent NeNe and her brother to Athens to live with her aunt. Her aunt raised her and NeNe has always wondered why she was the one to be sent away. Ugh. How heartbreaking.
The women are all back on the couch with Dr. Jeff and Andy now and NeNe says nothing is going through her mind. She's good. Dr. Jeff shrinks her about how these women have all been there for her at one time or another. NeNe says she thinks that somewhere along the line she's been misunderstood. She doesn't talk about her past and her mom and dad because she feels like she has to leave it all there. 
Cynthia says that NeNe is a survivor. She carries everything, her past, present, and future, her family, and Cynthia respects that. Plus 8.
Kenya says she sees the strength in NeNe's vulnerability and she STILL hopes they can be friends someday. Claudia thinks they all need to understand that they all have a story. Dr. Jeff says he would change course with his approach to counseling for NeNe and the girls.
Cynthia and NeNe both feel like the night was healing, especially after NeNe's breakthrough. Then she apologizes sincerely to Phaedra and tells her to take all the time she needs. The rest of the women all share their platitudes and then Kandi says life is like a roller coaster. Just keep hanging on.
So that's what we're going to do until The Real Housewives of Atlanta returns this fall. You can always watch The Real Housewives of Atlanta online to get your fix of the ladies from the Peach State! 
Miranda Wicker is a Staff Writer for TV Fanatic. Follow her on Twitter.