The Simpsons Season 26 Episode 20 Review: Let's Go Fly a Coot

Stacy Glanzman at . Updated at .
Have kid's birthday parties gotten a little too out of hand? 
If they're anything like what we saw on The Simpsons Season 26 Episode 20, I'd have to agree with Homer. 
Mine weren't nearly that elaborate, but they were more than a cake, and we did give out goody bags. No birds in plastic bags, though.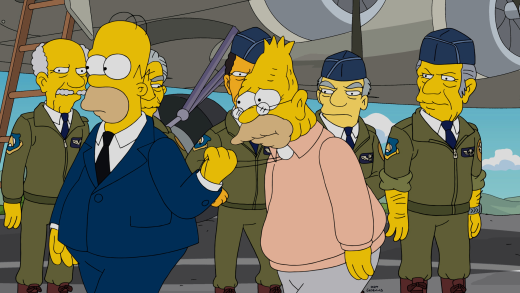 I'm with Bart, I think of Abe as an Army vet thanks to the awesome "Flying Hellfish" episode. But, Lisa's right too, as Abe has claimed to have been in the Navy as well. Apparently he just made his way through every branch of the military. 
The "Bart tries to impress a girl" story line has been done before, but at least this time the ending wasn't what I would have guessed. I can't say I was expecting Bart's grand gesture to be telling Annika that he doesn't like her and he's happy she's leaving. Not sure it was really necessary to go to the airport to do that, but it was something different, at least. 
Abe's stories are usually pretty entertaining. It was sweet hearing how he met Homer's mom when he was in the Air Force. I think the Jack Kerouac thing probably would have been funnier if I've ever read his book, but I'm assuming there are people who feel it's a little long-winded. 
In the future, Homer may want to consider getting a movie from Redbox next time he wants to spend some quality time with his dad. At least then you can pause it for a twenty-five minute bathroom break. 
Speaking of, did Homer miss any dystopian future movies? I think he about covered it. He even included sequels. 
I think the funniest line of the night award goes to Marge: 
Geez kids, guess you've had your last birthday. You're going to stay your current ages for the rest of your lives.

Marge
Bart was this close to eating his slingshot, but thanks to Homer making a deal with the "Big Birthday" guys, Bart will probably have another twenty-five 10th birthday parties. This show will never die. 
What did you guys think? Do you want to see an Abe Simpson Marine story next? After that maybe we can get one for the Coast Guard or the National Guard and cover all the bases. 
Don't forget if you missed anything you can always watch The Simpsons online and catch up. Only one more episode before the season finale! 
NOTE: The Simpsons Season 26 Episode 21 will be titled "Bull-E" and will air on Sunday, May 10.
Stacy Glanzman was a staff writer for TV Fanatic. She retired in March, 2019.