Elena Gilbert will no longer be a living resident in Mystic Falls next year.
That's the main change viewers are focused on after a heartbreaking Vampire Diaries Season 6 finale.
But it's not the only change the town will be going through, as made evident by a flash forward toward the end of The Vampire Diaries Season 6 Episode 22.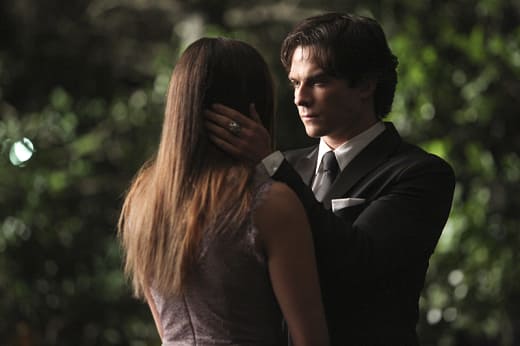 What the heck happened? How far into the future we were looking? And what can fans expect overall from The Vampire Diaries Season 7?
"The time jump is part of the narrative and story of episode 1," producer Caroline Dries told EW.
"Why are there boarded-up windows? Why is there garbage everywhere? What the heck happened? Why is Damon standing on that clock tower looking so pissed off?"
Dries did not reveal whether we'll pick up next fall weeks, months or years down the line. But that question will be answered in the premiere, she promises.
"The conflict of season seven will become the Salvatore brothers vs. their mom and her family of heretics," she also teases.
"It's going to be two warring factions pitted against each other."
At the network's Upfront Presentation, meanwhile, CW President Mark Pedowitz compared the future of The Vampire Diaries to Supernatural, saying he seems a bright future for a show that can now turn its focus to a pair of brothers.
Julie Plec has echoed Dries' sentiments, saying that "time" will be played with a bit and that the Heretics will be akin to The Originals in how each villain has his or her own personality and backstory.
What about Damon? What sort of shape will he be in?
Ian Somerhalder says to expect a reversion to "Season 1 and Season 2" Damon, teasing that he won't exactly be the sweet boyfriend any longer.
"The story is just going to change form and I think that we get to go back to this really awesome dark, edgy, volatile [theme]... The last two shots of this [finale] truly depict where this show is going to be and we see characters moving into spaces and places we never thought they'd be."
Matt Richenthal is the Editor in Chief of TV Fanatic. Follow him on Twitter and on Google+.