Weird Loners Season 1 Episode 6 Review: We're Here. We're Weird. Get Used To Us

Amanda Festa at . Updated at .
Stosh and Caryn have been dancing around a hook-up for a while, and the not especially anticipated moment has come.
On the season finale, Katie Aselton (The League) guest stars as April, Zara's bisexual dart partner and one-time love interest. She becomes a sexually-charged catalyst for Stosh and Caryn when she expresses interest in dating them both.
I don't know how to feel about the premise of Weird Loners Season 1 Episode 6. While there are some funny moments, its treatment of sexuality misses the mark in a big way.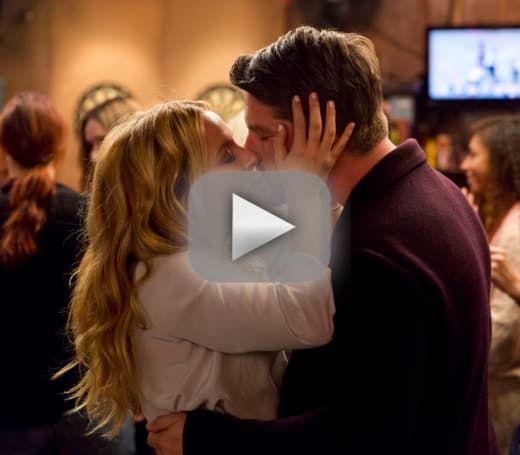 While Zara has received some positive response as a bisexual character, I just don't think slapping a label on a character is enough to be thought of as having an impact. It's not that I don't like Zara as much as I think her characterization is just ehhhh. That emoji shrugging guy comes to mind.
And Zara's whole "weird loner" shtick is that she is an indecisive free spirit with a crippling fear of monogamy. So, I don't think she is exactly the desired poster child for positive representation of bisexuality.
But, in "We're Here. We're Weird. Get Used to Us," Zara isn't the problem as much as April. First, regardless of her sexuality, accepting offers for dates from the two friends is a suspect move. Had Stosh and Caryn both been male or both been female, it's still not a classy thing to do. Having her be bisexual only fuels negative stereotypes of bisexuality.
It is not a contest. It's a matter of the heart. It's about finding true love. And I will win.

Caryn
If the material was funnier or handled in more of an over-the-top fashion so that it seemed to expose the stereotype instead of fuel it, it may have worked better. Unfortunately, April was a one-off character who did nothing more than spark a jealous rivalry between two friends.
Weird Loners has had moments of really successful satire, and I very much wish they had done it here as a means of exposing this poor representation of sexuality instead of perpetuating it to further a sub-par romantic storyline (Stosh and Caryn) that would have happened one way or another.
At least Zara does voice concern that the situation is ridiculous. However, she is simultaneously dressing Eric in an outfit that she believes will make him look more like a lesbian in order to win a dart tournament., so I feel like the episode is just consecutive shoots and misses.
Caryn: I don't even know why I dated this guy. It's not that this guy had a bad personality. He actually had no personality.
Stosh: I once dated a girl with multiple personalities and they were all terrible. But luckily they all had an amazing body.
After two funny episodes, I was enjoying the direction Weird Loners seemed to be going. The jokes were increasingly smart, the scenarios were absurd and they poked fun at tired sitcom conventions in a way that was starting to work. Unfortunately, "We're Here, We're Weird, Get Used to Us" doesn't end the season on a high note.
To happiness, or as I like to call it, sadness in its early stages.

Stosh
As a whole, Weird Loners was inconsistent. It took a few episodes to find itself, and even then, it struggled with its identity. While cancelation is almost certain, there is no doubt that we will see each of the four actors again soon. Hopefully they all find vehicles that will make the most of their talents and play to their comedic strengths.
What did you think of the season finale and Weird Loners as a whole? Will you be sad to see it go?
If you missed any of Weird Loners Season 1, you can always watch watch Weird Loners online at TV Fanatic.