Aquarius Season 1 Episode 3 Review: Never Say Never to Always

Elizabeth Harlow at . Updated at .
Quite bit happened tonight, so let's dive in and break it down.
Aquarius Season 1 Episode 3 covered a lot of ground, with character development taking center stage while the case load really picked up. On top of all of that, there was some (mild) exploration of women's issues. 
The murder of Art Gladner was our case of the week, in addition to foreshadowing that the drug ring is going to end up being a more important part of the story than I originally suspected. I'm curious whether it will intersect with the Manson investigation at some point, as having two big arcs seems like a lot for an abbreviated season.
Meanwhile, Shafe takes Tully back undercover, and they meet Manson. While he explores the compound and has a disturbing conversation with Manson (although, what conversation with him isn't disturbing?), Tully is *ahem* auditioning for Charlie with Roy. More on that later.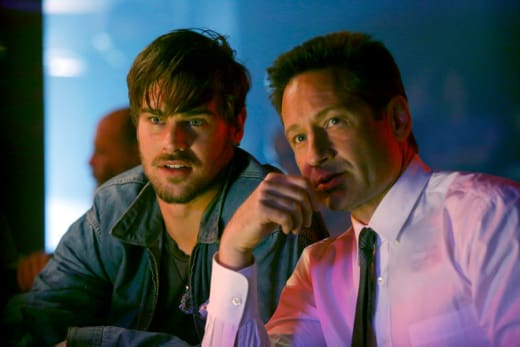 The risk of too many storylines is that your audience can't keep up with you. Aquarius doesn't do itself any favors in this regard by breaking up scenes with short interludes that do nothing to advance any story.
The vignettes themselves are sometimes quite lovely and deepen our understanding of events. But when you've got two missing persons cases, a murder, and a drug ring investigation, watching Katie crown Emma with flowers seems superfluous and unnecessary. It becomes especially confusing when dropped in between completely unrelated scenes.  
I am loving the depth of the characters on this show. Even minor characters are becoming more complex and more real. Cutler is a great example – in one episode, he emerges as a sexist pig, alcoholic and lazy cop who is concerned for both the woman he is having a casual affair with and an old friend who has just dropped him like a hot potato.
Cutler: So, we good?
Hodiak: Yeah, we're good. And we're done. I don't work with liars. It's not a moral thing, it's a safety issue. You understand.
Cutler's ability to compartmentalize is impressive, as he insists that he has the right guy for the murder and stands up to Hodiak's snark, but then is extremely sympathetic over the Walt issue. Of course, any likability he develops is thrown away over his comments to Charmain Tully. 
Tully just wants to be a great cop, but not only is she held back by department policies of the time, she has to put up with workplace harassment from jerks like Cutler. His calling her "Princess" and asking her to get him coffee (after he stands by as a suspect assaults her) all figure into her decision to go along with Roy.
Charmain: I chose, okay?
Shafe: Charmain...
Charmain: I'm serious about being a cop. About being a great cop. As serious as you are. Okay?
Shafe: Okay.
She was working with no guidelines when she made that call, and I hope it doesn't come back to bite her. While it may help advance her career in terms of providing her success while being undercover, if chauvinists like Cutler were to find out, it could be a major setback. At least it gave her the courage to stand up to him.
But really, women just can't win. We discover that our leading man hit his wife, and the way the information is delivered (from the unlikable Opal as a retaliation) makes it easy to fall in with apologists – it was just one time apparently, he said he was sorry, and he doesn't drink anymore. Cutler and Opal aren't upset about the abuse, just the hypocrisy.
Speaking of women who get hit, Emma takes a blow from Manson when she dares to ask questions, and he knows how to handle her with words, as well. The combination of fear and reassurance is breaking her down, even as she thinks she is being built up.
The scene where she compliantly goes to bed with the sound engineer at Manson's command is heartbreaking because it's so in contrast to what he told her earlier. She thinks she's found freedom from parents that view her as their property, and then she is convinced to give up agency over her body to Charlie's whims.
Well, I wouldn't tell you this if I didn't know you could hear it for what it is, but he asked me how much I wanted...for you. Like you were a used car, or a...horse, or a cow. If no one owns something, it can't ever be for sale.

Charlie
We skated the surface of women's issues with this episode, and I hope this well is revisited, along with the racial tensions via Shafe's home life. Vietnam was covered, of course, through Walt's disappearance.
From the note he left Hodiak, though, there's more to that story, as well. It better pan out quickly, though, because I'm losing interest fast. This storyline needs to keep up with the fast pace set by the rest of the show.
Watch Aquarius online to find out what else happened in "Never Say Never to Always." Let us know in the comments what you thought about Hodiak's hookup with Grace, the forensic reenactment of Gladner's murder, and if the format of the show is working for you. 
Elizabeth Harlow was a staff writer for TV Fanatic. She left the organization in October 2018.