Remind me to never piss off Cat!
On Beauty and the Beast Season 3 Episode 3, there was a surprisingly nice amount of comedy and drama, which was lacking last season.
It seems as though they are doing things a little differently this season and trying to develop the characters more by giving them a fun side. We also got a development in the wedding between Cat and Vincent thanks to some help from Heather.
Let's get right down to it and discuss tonight's crazy episode!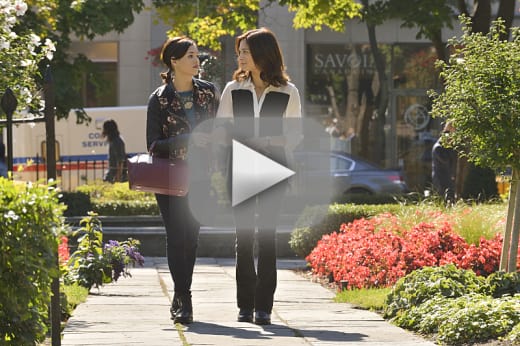 There's something odd about seeing Vincent act so normal, but I'm definitely not hating this new side of him.
I'm really enjoying Vincent getting a chance to be as normal as he can be, and doing a job he seems to really enjoy. I can't blame the guy, after getting home from a long day, for wanting to just relax without hearing about police work or looking at anything having to do with weddings.
Cat really can't be that surprised Vincent would fall asleep after his long night at the hospital. I was totally on Tess's side when she told Cat juggling full time careers, which both are particularly demanding, and planning a wedding would make anyone stressed out and exhausted.
Speaking of Cat's job, it would have been so out of character if she had just decided to ignore this new development of super-human experiments. 
[talking to Cat] You keep looking for your greater purpose, this could be it.

Tess
Who else is enjoying the scenes between Heather and Vincent? There's just something comical about these two, and I am enjoying how close they are getting.
While I understand Heather means well by giving Vincent the wedding notebook she put together, I would be giving it back to her because of the bad mojo – Heather's wedding was called off people! Vincent and Cat do not need more bad luck thrown at them. However, it was sweet of Vincent to try to make it up to Cat after he fell asleep by trying to get some wedding planning done.  
Of course Cat and Vincent can't have a romantic evening to themselves without someone trying to kill one of them. At least Vincent had the bright idea of going to the houseboat to try to keep Cat safe, but I can't blame Cat for not being a big fan of the houseboat – who really wants to live on that thing?
Cat and Vincent should just go ahead and elope because I'm pretty sure this whole wedding thing is going to hit a few more snags. 
JT trying to figure out if he has some super-human abilities wasn't a shocking development – when he tried to control the lamp, I am admit I did chuckle. I'm not sure why JT would think he would be able to keep his fear of possibly having enhanced blood from Tess – she's a detective, she'll know when you're not telling her the whole truth.
While I understand JT's fear, he needs to be more opened and honest with Tess when he is going through these emotions.
Speaking of JT, who else wants them to stop constantly hurting JT? The guy deserves a break from constantly getting hurt or being put in dangerous situations. Send him and Tess on a relaxing vacation where he isn't going to get shot or possibly killed. At least he has a best friend who's a doctor and can put him back together. 
I can't be the only one who wasn't exactly shocked by Bob and Carol turning out being the bad guys. When they agreed to put Cat and Vincent on the case, I immediately guessed they shouldn't be trusted. Even though Bob and Carol are bad guys, I really enjoyed their back and forth with Cat and Vincent – it's rare you find villains you actually enjoy. 
In the end, Cat and Vincent squared off against Bob and Carol, who were definitely a match for them, but they didn't anticipate Vincent going beast mode on them.
Vincent's houseboat was blown to smithereens, and Cat and Vincent realized they were rushing the wedding. Tess, thankfully, got the captain and JT's superpower was revealed – he can heal quickly.
It was an exceptionally crazy episode filled with twists and turns. Adding in the element of JT having a superpower was such a genius move, and I'm really looking forward to seeing where they go with this.
I'm also pleased with the introduction of Bob and Carol and intrigued to see what they are planning to do and who they are after – besides Cat and Vincent. 
What did you think of Bob and Carol? Will JT confide in Tess about his new ability? What do you think of these super-human experiments? 
Don't feel bad if you missed this episode. You can watch Beauty and the Beast online via TV Fanatic anytime and come back to let us know what you think.
Samantha McAllister is a staff writer for TV Fanatic. Follow her on Twitter.