Theresa played her hand and had Melanie saying goodbye, JJ continued to fight for Paige, Chad and Abby heated things up and Eric became disillusioned with Serena last week in Salem.
Our TV Fanatics Nick McHatton and Christine Orlando are joined by Jack and Mikey from MyHourglass a Days of Our Lives Fan Forum to debate Melanie's exit, Eric's change of character and what they loved on last week's Days of Our Lives.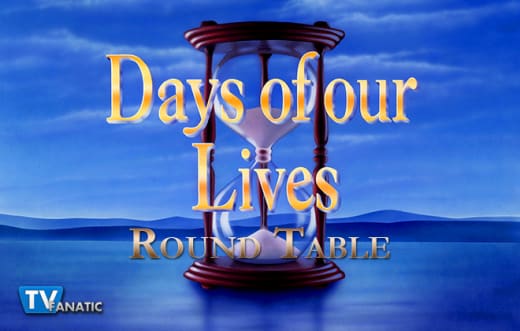 Is Melanie right, did Theresa overplay her hand? Could she have won Brady without pushing Melanie out of town?
Nick: Anything is possible, there's been small glimpses to Theresa's character being something other than a bad girl, but Theresa has no other way of dealing with issues anymore. She's going to push and plot anyone and anything she can to get what she wants.
Jack: Theresa definitely overplayed her hand. She showed very quickly she hadn't changed; her behavior wasn't much different than when she blackmailed JJ after her OD. I don't know if she could have won Brady back from Melanie or not, but now we'll never find out. I'd have loved to see the drama if Melanie had stayed!
Mikey: Maybe not in the immediate future, but Brady has clearly softened toward Theresa, and they now share the bond of a child. Theresa probably shot herself in the foot by manipulating Melanie so much. Of course, Brady's enough of a dope that he'll probably forgive her for this in short order, anyway.
Christine: She definitely overplayed her hand. I think she could have won Brady over and pushed Melanie out given time. Now she's made herself the bad guy again. However, I do agree with Mikey, Brady's not the smartest tool in the shed. It wouldn't surprise me if he forgives Theresa given time.
What did you think of Melanie's short stay in Salem? Do you want her back?
Nick: Melanie's short stay in Salem started with a fizzle and it ends with one too, but this is easily my favorite scene of hers: watching her exit Salem. Maybe next time she'll bring her Doctor Daddy too.
Jack: I like Melanie a lot, especially the more mature Melanie we saw recently. I think they should have skipped the silly casino storyline and put her into a serious story from the beginning. If we can have the version that just left and not the silly one that came back in November, I'd be happy to see her any time.
Mikey: I do want her back, but either for a quick visit (for a wedding or something) or for a more permanent stay where the show can really invest in a story for her. It made no sense that they knew they had her short-term and yet spent all this time on a romance with Brady that had a fixed end date. They could've told almost the exact same story with them as best buds!
Christine: I do like Melanie when she's not acting like a immature teenager. I had hopes that she and Theresa could bond. I thought that would have added something to both of there characters. Instead, they predictably ended up as enemies fighting over Brady. It felt like a wasted opportunity. 
Did you prefer Eric as a priest or not?
Nick: I enjoyed it when there was story to be told there. The chemistry between Eric and Serena, the slow burn between them, and his job being the ultimate wedge issues between them; those stories have since passed as has Eric's time wearing the collar.
Jack: I prefer elements of Father Eric. I like him having and expressing religious beliefs and being a trusted friend and advisor. I'd like to see him have these things in civilian life and to break up permanently with that scowl he seems to have been sporting for the past year.
Mikey: I did, honestly. I was so ready for him and Nicole to get together, but I loved how they didn't have him actively break his vows to be with her. And then when the set-up had been negotiated well, they blew it all apart and made him into a total judgmental jerk. I do think his character has softened in the past few months, and he even finally seems to be wising up to Serena's true nature, but he could've stayed a priest and spared us all this judgy nastiness.
Christine: Eric was more human as a priest. Since leaving the priesthood he'd become judgmental and downright mean at times. I also miss him advising others. Maybe he could follow in his mother's footsteps and become a counselor. That seems more in line with his character than photography which came out of no where. 
Jennifer's entire life seems to revolve around her children. What one other character in Salem would you like to see her become involved with, romantically or otherwise?
Nick: This is going to sound absolutely crazy, but hear me out: Eve. Jen and Eve, when they're not at each other's throats, have some fun, friendship chemistry bubbling between them. Let's explore that and see if it goes anywhere.
Jack: I would love to see her friendship with Eric continue to develop and perhaps even become romantic!
Mikey: The nightmare of Daniel and Nicole has actually made the prospect of revisiting 'Dannifer' not entirely horrifying to me. I've enjoyed Jennifer and Daniel much more as friends the last several months than I did when they were together. Could they have matured enough not to be so terrible as a couple?! I actually think Jennifer and Rafe might be a good pair, too…
Christine: Oh, Mikey…I want Nicole and Rafe together but that's an entirely different question. Jennifer and Eric could be interesting, however, they're both very judgmental. I can actually see what Nick is talking about in that there is some interesting chemistry between Jennifer and Eve, if they ever stop hating one another long enough to have a rational conversation.
Was there anything that disappointed you this week in Salem?
Nick: Will being a terrible husband, still. Figure this storyline out Days, and quickly, it's getting very tiring.
Jack: Melanie's exit. I felt she was running away just like she ran away from the casino people in Europe and she ran away from Chad last time around, and that there would be a far meatier story if she'd stuck around.
Mikey: I was proud of the way JJ took responsibility for his actions and the way Paige stood her ground and didn't cave to him, but I'm disappointed that the party line is quickly becoming "Eve is nuts and manipulated JJ, and he isn't really to blame." He knowingly had repeated sexual encounters with Eve. She was screwing with him, but it's not like she drugged or brainwashed him. He chose to do this very dumb thing out of anger and low self-esteem. If he's susceptible to making mistakes that big because he feels bad, he isn't ready for a relationship, and I'm worried the show is going to gloss over that -- especially with how JJ is being portrayed as contrite while Eve is ripping all over town acting like a lunatic.
Christine: That Will blew off his therapy session and yet still tried to make Sonny the bad guy. How long is Sonny suppose to put up with this? I really want to see these two in therapy and see what comes of it. 
What was your favorite quote, scene, or story of the week?
Nick: Watching Melanie take her get the hell out of Salem victory lap. Nothing pleases me more than watching characters I loathe die or run away.
Jack: OMG I loved Kayla talking about her love for Steve and how she didn't care what anyone else thought. It's such a stark difference from most of today's couples, which seem to be based on running around getting the approval of everyone in town.
Mikey: I loved the potential throwaway scenes between Kate and Kayla. I really appreciated how they referenced Kate's bout with cancer from a few years back, and her telling Kayla, "Even you would have been a better choice [for Lucas, rather than Adrienne]!" and Kayla's bewilderment about it cracked me up. 
Christine: Chad and Abby, mostly because of Chad. He's scenes with her smolder. I just wish she'd break up with Ben and become strong enough to explore her feelings for Chad despite what everyone else will think. 
If you missed a minute, check out our Days of Our Lives recap and review. 
C. Orlando is a TV Fanatic Staff Writer. Follow her on Twitter.