Will's manipulations came to light, Theresa got her greatest wish, Xander faced Uncle Victor's wrath and Nicole must choose between Eric and Daniel after last week's Days of Our Lives.
Our TV Fanatics Nick McHatton and Christine Orlando are joined by Kathy and Stephanie from MyHourglass a Days of Our Lives Fan Forum to debate Ben's reaction to Abigail's betrayal, Nicole's romantic dilemma and who they believe is currently the biggest villain in Salem.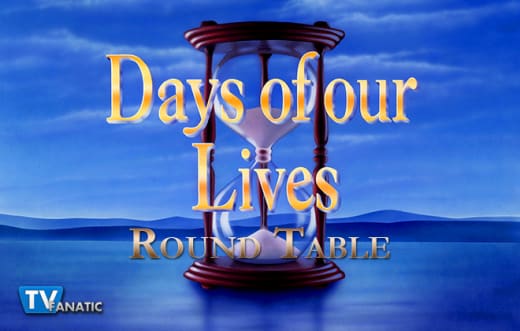 Who do you consider the biggest villain in Salem right now?
Nick: Victor, man isn't taking anybody's crap right now, and if Xander were anything other than his flesh and blood he'd have an actual bullet floating around in him.
Kathy:  Stefano. I'm sure his return to Salem means he has something in the works. I want to know why he is pushing Chad to reconcile with Abigail.
Stephanie: Clyde. I choose him purely because he is the unknown threat. With the likes of Stefano and Victor we kind of get their M.O but Clyde is still pretty much a mystery to the viewer. We don't know his weaknesses or how far he's willing to go to get what he wants.
Christine: Tough call. I find Victor formidable but I agree that Clyde is a wild card. He showed that when he killed EJ. Stefano used to be Salem's big bad but currently, it feels as though Stefano has lost his bad guy mojo.
Ben hasn't told Abigail he knows the truth about her and Chad. What do you think he will do next?
Nick: Sounds like he's just doing enough to string Abigail along until he gets his chance to either go after Chad or Abigail. The love Abigail and Ben share is nothing more than obligation at this point. Their spark is gone.
Kathy: I think Ben will try to make Abigail feel guilty by being the best boyfriend possible. 
Stephanie: Most likely, Ben will plod along as he has been doing. Facing off against Chad from time to time and probably tightening his grip on Abigail now that she's moving in. I'm sure we'll see that tracking app rear it's ugly head again.
Christine: Ben's got a dark side, I'm just wondering how dark he will go. I think he's going to make Abigail feel guilty and tighten his control over her in ways she won't even realize until it's too late. 
Do you think Xander will do as Victor says or does he have his own plan?
Nick: Xander's clearly working his own agenda at this point. There's no way in hell he's going to let Uncle Vic tell him what to do.
Kathy: Xander will follow Victor's plan up to a point but I'm sure he will have an escape plan of his own. He won't go to jail.
Stephanie: I'd love for Xander to go rogue and defy Victor but for whatever reason he is fiercely loyal to the old man. He'll probably comply but find a way to get a final dig-in as well.
Christine: I expect Xander to have his own plan and be gone from Salem soon, whether it's on the run or in a body bag is the only question.
Nicole says she loves Daniel but shared a kiss and longing looks with Eric. Which man, if either, should she choose?
Nick: Ugh, I wish Daniel Freaking Jonas had spontaneously combusted when he pushed that rack away from the crawlspace. Would've saved us all so much time and effort. Choose Eric, Nicole! Daniel has been a jerk to you forever and a half.
Kathy: Nicole should take a step back to see how both men treat her when life gets back to normal. Let Daniel/Eric prove they have changed and are good enough for her.
Stephanie: Out of the two, Eric, for sure. As much as I love him he has treated Nicole rotten. He does seem to genuinely regret this though. I almost want Nicole to choose neither out of spite!
Christine: I think Nicole should take some time for herself. Both men have treated her lousy and she deserves better but, in the end, I'm rooting for Eric. 
Will Victor accept Theresa living in the Kiriakis mansion?
Nick: For the sake of keeping an eye on her and keeping Tate safe: absolutely.
Kathy: I think Victor will agree to let Theresa stay to keep his grandson and great-grandson under his roof.
Stephanie: Yes, but only to fuel his own agenda. He knew where Kristen was so I'm sure he knew Theresa was moving in! That Victor is a crafty one.
Christine: He won't like it but, he'll deal with it for Brady and Tate's sake.
Was there anything that disappointed you this week in Salem?
Nick: Will can't tell the truth, ever, apparently.
Kathy: I was disappointed that Will felt he had to manipulate the marriage counseling to go his way. 
Stephanie: I wish I could've seen the smug look rubbed off of Daniel's face when he learned of Eric and Nicole's "warm embrace"
Christine: Nicole continually insisting that she's in love with Daniel. It took one good scene between she and Eric for me to be over Nicole and Daniel. 
What was your favorite quote, scene or story from the week.
Nick: Eric and Nicole! I loved watching them rekindle what they once had in such a few short moments. More of this please, Days!
Kathy: My favorite story was the Xander/Victor confrontation. 
Stephanie: I enjoyed Chad telling Abigail what was what in the garden. I love a good Days argument, and of course anything Eric/Nicole and Brady/Theresa related.
Christine: Theresa's happy dance when Brady asked her to move in to the mansion. Theresa's glee was both infectious and hysterical. 
If you want to talk more about what happened in Salem, check out our Days of Our Lives recap and review here at TV Fanatic 
C. Orlando is a TV Fanatic Staff Writer. Follow her on Twitter.