Brady tried to lay down the law with Theresa, Eve tried to use a history of mental illness to her advantage and Abigail slept with Chad while still continuing her relationship with Ben.
Our TV Fanatic Christine Orlando is joined by Trey and Wendylou from MyHourglass a Days of Our Lives fan forum to debate Abigail's love life, Brady's plan for Theresa and which resident of Salem needs to be in therapy after last week's Days of Our Lives.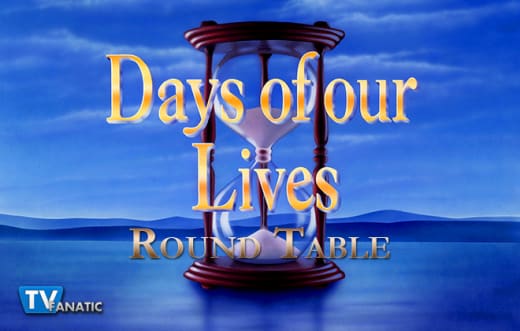 Who would you rather see Abigail paired with, Chad, Ben or someone else?
Trey:  Chad and Abby are hot! I'd love to see them explore the dark DiMera world together.
WendyLou: Chad. Hands down. He's far more interesting, they have more chemistry and are more interesting as a couple.
Christine: I've never really liked Abigail but I love her with Chad. Not only do they exude chemistry, I think Chad actually loves her. If Days plays its cards right, this could be a serious, long-term, romantic couple. 
Choose a love interest for Rafe?
Trey: Rafe needs someone with adventure or an ornery streak. I could see him pair with bad girl Eve or Nicole.
WendyLou: Well, he's a sweet guy but kind of a dud so he needs someone to spice him up. We know he's not too judgmental based on his relationship with super-baddie Sami so I would mind seeing him with Nicole or Eve. Both those women need a good man.
Christine: I've always wanted to see Rafe and Nicole together. I think these two could really be a lot of fun together.   
What one character do you think needs psychological counseling the most right now?
Trey: Jennifer and Eve both need to take a step back and evaluate their lives and their choices.
WendyLou: Oh! How do I choose? There are so many messes in Salem. Teresa, JJ, Eve, Abby, Will, it's hard to say. I guess I'd have to say Eve. She destroyed her daughter and her main concern now is getting revenge on Jennifer. She's a very abusive person and also very self-destructive and completely in denial about what she's does.
Christine:  Eve needs help but I almost feel as though she's a lost cause. I'd like to see JJ in therapy. He's had a tough few years and made a lot of horribly bad choices. He's also said more than once that he'd rather die than lose Paige. That screams to me that he needs some help putting things in perspective and moving on with his life. 
Any idea what Brady's new plan is for Theresa and baby Tate?
Trey: I don't think Brady is going to play fair for Tate's well being. I think he plans to take Tate away and declare Theresa unfit.
WendyLou: No. I guess he is just trying to neutralize her and make it clear he wants nothing to do with her romantically. However, I hope he discovers that he's wrong about that interest because I love these two and think they have ten times the chemistry Melanie and Brady ever did. I want to see Teresa become a better person (not totally good just better) and to see her feel lovable.
Christine:  I'm with Wendylou. I think what Theresa needs most is to feel secure and loved. It doesn't seem she's ever had that. I'd love to see Brady move Theresa and Tate into the Kiriakis mansion because that's what would be best for Tate but from Brady's demeanor on Friday, I don't have much hope that it will happen. 
Was there anything that disappointed you this week in Salem?
Trey: Kate using Ari's birthday to promote her own agenda (to expose Lucas/Adrienne's affair) was classic Kate. I wish she'd stick to her own life and exposing Clyde instead.
WendyLou: I'm pretty sure I've used this answer before but sadly it's still true. Why is Serena still in town and on my screen? The elephant story gets my award for worst of the year. SNOOZEFEST!
Christine: Watching Eve once again become obsessed with making Jennifer pay. We've been through this too many times before and both actresses deserve a better story.
What was your favorite quote, scene or story of the week?
Trey: I loved Paige telling JJ that sleeping with someone her parent's age would be creepy (noting to JJ that his affair with her mom was creepy). But overall I couldn't get enough of Chad/Abigail's hotness. 
WendyLou: I really enjoyed seeing Paul and John bond and I also liked Daniel's scenes with JJ where he told him he needed to let Paige be because he will always be the guy who slept with her mother. Also I always enjoy seeing Hope and Aiden on screen.
Christine: Chad and Abigail. They're love scenes were the steamiest that Days has had in a long time and even Chad lashing out at Abigail when it appeared she was going to dump him again was riveting. I want these two together but I'm willing to wait a bit to see it happen. 
If you want to talk more about what's happening in Salem, don't forget to check out our Days of Our Lives recap and review. 
C. Orlando is a TV Fanatic Staff Writer. Follow her on Twitter.