It really happened on Saturday night.
At ATX Television Festival in Austin, Gilmore Girls creator Amy Sherman-Palladino was joined by executive producer Daniel Palladino for a reunion of epic proportions.
Also on hand? Former stars Lauren Graham, Alexis Bledel, Kelly Bishop, Scott Patterson, Keiko Agena, Liza Weil, Jared Padalecki, Matt Czuchry, Yanic Truesdale, Liz Torres, Jackson Douglas, Todd Lowe, John Cabrera, Danny Strong and Milo Ventimiglia.
Will there be a Gilmore Girls movie? Which boyfriend Team were all three significant Rory boyfriends on?
Scroll down for an amazing rundown of an event many have been waiting years to see: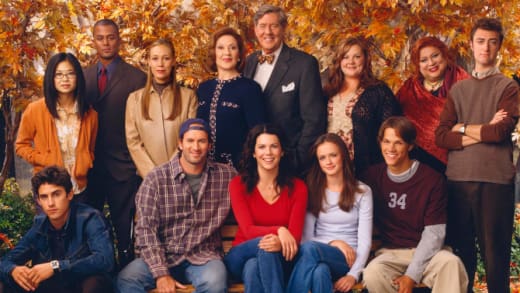 Sadly, "there's nothing in the works at the moment," Sherman-Palladino said a movie or revival, adding:
"If it ever happened, I promise we'd do it correctly … Nobody here hates each other, which is very important. It would have to be the right everything, the right format, the right timing, it would have to be honored in a certain way."
Sherman-Palladino also refused to reveal the four words with which she had planned to conclude the series with, saying:
"For a while I thought, 'I'll just hold on to it in case' – now I'm just being an A-Hole."
Padalecki, Ventimiglia and Czuchry, meanwhile, were all asked for their take on Rory's love life, amusing the crowd with their response.
"I was Team Dean," Ventimiglia joked, to which Padalecki countered: "I was Team Jess – he was sexy and cool."
Czuchry then jumped on by saying that he felt "the right boyfriend came at the right time… they each brought something out in Rory that she needed at the time… I was also kinda Team Jess."
But Patterson solved the debate once and for all with: "None of you are good enough for Rory."
Graham said she believes "100 percent" that Luke and Lorelai are still together, while Sherman-Palladino said it was a "calculated move" to wait so long to get the two together because she didn't want to "rush" into anything with them and miss any character moments.
As for Rory's first time? There was pressure from the network for it to finally happen, Sherman-Palladino explained.
"I wanted it to be Dean and I wanted it to be at a time when they weren't together. He was that great first boyfriend that you struggle with that as your life goes on, and you're like, 'the first one was so nice… maybe I shouldn't have left that guy.'
"That was a big thing only because people were like 'what's with her not sleeping with boys?'"
Bledel admitted that the show was just her fourth or fifth audition ever and that the role marked her first time acting in front of the camera.
"Because it was my first scene, I think we did many, many takes, because I didn't know how to clear the camera – I'd walk behind Lauren because I didn't know, she'd have to grab me to make sure I was on-camera," Bledel said of her first day filming.
"I was never on my mark the first week of shooting, [Graham] was always scooting me over."
To wrap up the panel, Sherman-Palladino said of the Gilmore Girls legacy:
"It's all downhill from here, there's no way I'm going to top this experience, this cast, these leading ladies, it's just not gonna happen again. That's okay, some people get lucky and some people don't and god, I got so lucky."
NOTE: To see what all the fuss is about, you can go watch Gilmore Girls online any time via TV Fanatic.
Matt Richenthal is the Editor in Chief of TV Fanatic. Follow him on Twitter and on Google+.