Halt and Catch Fire Season 2 Episode 4 Review: Play with Friends

Sean McKenna at . Updated at .
Joe's vision of brilliance in using the mainframes could easily turn into a catastrophic nightmare.
But seeing such an enthusiastic version of Joe, pitching his ideas with such certainty, harkens back to Halt and Catch Fire Season 1.
And where I'm sure the negative sides to Joe could re-emerge as well, in addition to any collateral damage and problems that will undoubtedly pop up in the process of the pilot project, I can't help but share in his excitement.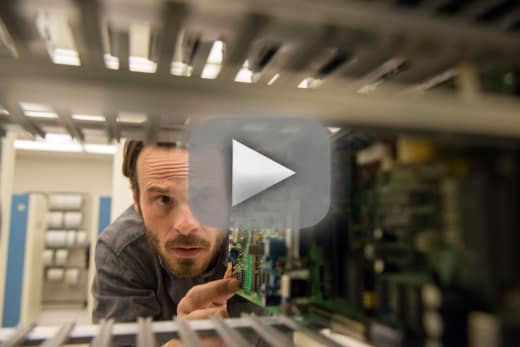 Having Joe seek out Gordon in Halt and Catch Fire Season 2 Episode 4 seemed predictable, as did Gordon's decision to agree to work with Joe, especially after what Gordon's Sonaris did in Halt and Catch Fire Season 2 Episode 3. But it was great getting those two back together.
All of their interactions were entertaining to watch, and I really appreciated the humor that came through from their discussions; Gordon stating Joe should get the items and meet him at the bar, discovering Joe wasn't asking for legit work from him, and even him saying he wanted to punch Joe after realizing the full situation was funny.
I'm sure Donna is not going to be thrilled when she does learn what Gordon's been up to, but you can't deny the feeling both Gordon and Joe have in getting that innovative project going.
Let's just hope Gordon's cocaine habits don't get in the way.
Really, though, this episode allowed its main characters to head off on some positive footing, along with that excitement for creating, and that's fun to watch. Who hasn't come up with some idea and gotten that spark to try and pursue it?
From Donna learning the increased number of chat rooms to Cameron and Tom working together to come up with their new game (the online shooter) to John throwing his hat in the ring and using his salesman skills to aid Mutiny, the characters really seem to be on the upswing to find that greater thing and bring it to fruition.
There's still a long way to go before reaching success for the characters involved, but the burgeoning stages are a thrill to watch.
If anything, Donna and Cameron are still trying to figure out their relationship when it comes to being partners.
It was frustrating to see Cameron prepare to shut down Donna's chat without even learning about it or using it. I liked that Donna called her out questioning if its shut down was because she didn't like it or simply because she didn't come up with it.
To make matters worse, Cameron was talking about Donna behind her back and then accidentally let everyone know.
It was good to see Donna upset about it, but I was also pleased that the two talked it out. Both have their value to the company, and they should be working together, not against each other.
Though, the surprise revelation that Donna is pregnant at the end of the hour might cause another hiccup in Mutiny and Donna's journey. It definitely provides some interesting storylines that can stem from that whole situation.
And I've got to say that it's good to see Mutiny isn't some success story right out of the gate. They've got some great ideas, that energy needed for such a company, and that willingness to work for free in the hopes that it pays off. But it felt more realistic to see some characters such as Yo-Yo leave the company.
It would have been far more cheesy to see the whole crew of Mutiny stand up as some band of brothers like the problems the company is facing are no big deal, and they'll get through it all. I'm sure Mutiny will succeed, and its products will explode on the market, but that journey will not be without its downfalls.
This was my favorite of the first four episodes of Halt and Catch Fire Season 2, and it's great to see that the series' return hasn't fallen victim to the sophomore slump. It's definitely an underrated AMC show, and one more people should be tuning in to watch.
Do you like Tom and Cameron together? Are you excited to see Joe getting his project going? Sound off below! And if you haven't plugged into this series yet, you should watch Halt and Catch Fire online right here at TV Fanatic.
Sean McKenna was a TV Fanatic Staff Writer. He retired in May of 2017. Follow him on Twitter.