Killjoys Stars Talk Chemistry, Bonding and Female Empowerment

Henry A. Otero at . Updated at .
All three Killjoys jumped on a press call this week to chat about their kickass new series.
Hannah John-Kamen, Aaron Ashmore, and Luke Macfarlane talked chemistry on screen and off, stunt training, Firefly comparisons and more. All the while, their genuine appreciation for one another was easy to pick up on.
Most forms of entertainment are cyclical. Serial killers, global pandemics, ghost hunters, vampires and other supernaturals overstayed their welcome. You can't blame genre fans for craving a return to outer space, and Lost Girl creator Michelle Lovretta has delivered the goods with Killjoys.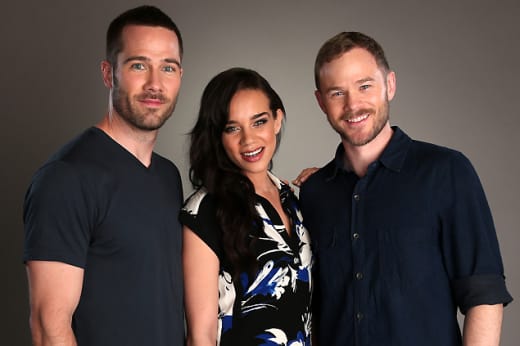 Killjoys is more than just bounty hunters kickin' butt in space. Sure, there's action, lasers and all that fun stuff, but it's also a truly brilliant exercise in world-building. Various ecosystems, cultures, political agendas, gadgets and weaponry populate this fictional universe. As genre fans, we're always on the look out for something original, smart and with heart to entertains us.
Usually, casting can make or break a project. It's a relief to inform you guys that this trio is ultimately what carries this series.
When asked about their chemistry, Luke Macfarlane (D'avin) explained the three leads went through the regular casting process. They auditioned with various people, but he, Aaron and Hannah "got along from the beginning almost immediately, very similar sense of humor."
Aaron Ashmore (John) chimed in saying, "You know, as far as chemistry and stuff like that, you either have it or you don't." He went on to say, "Sometimes you just really luck out and I think the three of us have become really good friends and we got along so, so well, and it's kind of rare."  
"It's important to have chemistry on the screen and off," Hannah John-Kamen (Dutch) agreed. "We do all have the same sense of humor, which really helps and… we sing a lot too" she said. Luke confirmed that saying "Yes, we do, we make up songs on the set all the time."
The cast was asked to give their take on their characters. Hannah went first, "Dutch is a level-five Killjoy, which means she's a top Killjoy that can kill. Dutch has a really complicated past that is catching up with her in the moment when you start watching Killjoys."  
"And she's the leader, I think that's important too," Luke threw his two cents in. To which Hannah replied "And the leader, yes." "Most definitely our fearless leader" Aaron confirmed.
"I play John Jaqobis," Aaron continued who's a level-three Killjoy, which basically means he's not as skilled and dangerous as Dutch. John is a more of pacifist in this group. He's a little bit more willing to talk things through instead of shooting and asking questions later. I think he's sort of the glue that's trying to hold this team together."
In the pilot, John and his brother D'avin have been estranged for several years. Luke went on to explain their interesting reunion.
"I'm D'avin," Luke began, "I play John's older brother and I don't join as a Killjoy, I sort of bump into John in the kind of weird sort of way and then I end up kind of sticking along with them for a ride. My character is a former military man who tends to be a bit of a rogue kind of guy. And yes, he's immediately taken with Dutch and the power that she possesses and her fighting skills. So as the show progresses I get very intrigued with the Killjoys myself."
Though Aaron and I discussed the Killjoys' spaceship, Lucy, in an earlier interview, the cast weighed in on the importance of this fourth member of the team. "I think John is Lucy's favorite and that's sort of addressed at times, even though John denies it" Aaron explained. He went on to say, "She has a real sense of humor too, a real personality." 
"Yes, she's got a real personality" Hannah agreed. "I think Lucy kind of sets the team well as well, she's so professional. There's situations in the show where even though Lucy is a machine, you know, she's a ship, she really helps our characters get out of a situation as much as she can."
Luke explained that his character, D'avin, doesn't, "Even bother to learn Lucy's name until, you know, the seventh episode. I just call her 'ship,' which I think is sort of funny."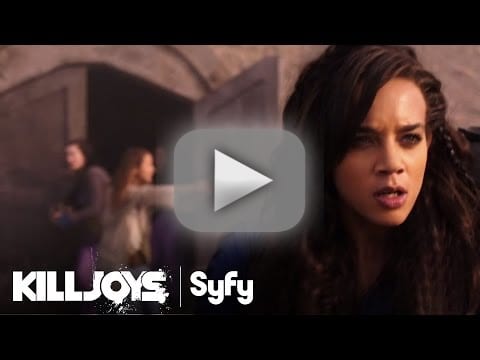 The series is an action-packed thrill ride, so naturally there was a certain amount of stunt training involved.
Hannah explained the actors, "All had stunt training, military training, and physical training as well. So during the week, before and after the scenes, we kind of plan out the fight sequence, and it was so much fun." Hannah went on to say that the training was one of her favorite parts of the Killjoys experience.
Aaron talked of how the training was also a bonding experience for the actors. "The physical stuff that we got to do at the beginning, the military stuff, the fight training, the working out, is really kind of neat because the three of us didn't know each other so we're sort of thrown into all these really intense trainings together. And I think that it's a good way to sort of bond with your fellow actors through all this training and physical stuff."  
"This is actually the first time that I ever got a trainer," Luke said. He went on to explain, "We worked out and they took pictures of our shortlist, which they sent to the producers. It was like this badass thing that I wanted to have and they did it, and it was great, you know, it was really great, it was a great excuse to sort of workout." The actor revealed that though they had amazing stunt doubles, they tried to do their own stunts whenever possible.
When the topic turned to their characters favorite line, Aaron mentioned a hilarious one from the pilot. "There's a great line where one of the characters asked me if it's uncomfortable walking around because I have such big balls, and I'm like yes there's some chafing. I think that's kind of funny and sort of the tone of the show, the subtlety of the humor."
Luke and Hannah struggled a bit to recall their favorite line, but Aaron offered to help out. "I know a line of yours Luke that sort of speaks to the character, the difference in the characters and stuff like that. John is trying to do something in a scientific sort of way and he gets himself in trouble and Luke's character, I can't remember the exact lines but he's like, see what I'd tell you science is dumb."
"I remember being very concerned about that line, because I'm going to alienate our audience. These people that watch the show are going to like science and they're going to hate me," Luke told Aaron.
"No, no because it's very funny, but you don't come across as dumb," Aaron assured him. "It's funny," Hannah said giggling.
All three actors agreed that their favorite part of the Killjoys experience was the fun they had on screen and off and it shows. "I think with Aaron and Luke they're just so amazing to work with. They just made the whole time and experience just, you know fun," Hannah said.
Luke picked up from there saying, "You often hear actors talking about, 'Oh, you know, we all like each other so much.' But really, legitimately, it was like a really great group. I loved showing up to work, it was wonderful." 
"Yes, I agree," said Aaron. "I think everybody really, really enjoyed themselves. And again that's not, you know, we're working in such a fun business and that, but the experiences are not always amazing. And I think like on a personal level the fun of working with everybody was way, way up there."
Naturally, working aboard a spaceship against a green screen was way up there as well. Luke spoke to that, saying, "Just to use your imagination in a really profound way. It makes you feel like a kid again, when you're looking out the window of your spaceship and you see a green screen having to imagine what's on that. I remember the first time we were all on the cockpit together, you know, and we've been watching the ships get built and we see them and like, 'Cool, that's our spaceship.'"
Since day one, the series has been compared to Firefly, and the actors take that comparison in stride.
"I think it's fine, because until people really get the personality of our show, that's the easiest way to understand something. I think it's flattering too because as genre fan myself, Firefly is obviously, you know, one of the most beloved shows so any comparisons to that are cool," Aaron said.
However, Luke mentioned that, "Firefly was essentially a rouge group of individuals. The Killjoys operate within a system and can't do whatever we want whenever we want. We have to operate inside the system called the (R.A.C.), and I think that's a really fundamental difference that makes the world fundamentally different."
So, what will fans of Lovretta's Lost Girl and Temple Street's Orphan Black love about Killjoys?
"It's kind of hard to say exactly what it is, but I think that the sensibilities are going to be the same," Aaron said. Luke spoke of Lost Girl, "I think there's a sort of sense of female empowerment. Michelle writes a lot about sexuality in a really unique way that's very different than most TV characters. To have sex and not feel ashamed about it."
"Yes. And wow there's not really kind of a big thing about sex, sexuality," Hannah continued. "It's kind of, you know, there's this massive freedom there."
Killjoys Season 1 Episode 1 premieres tonight at 9/8c on Syfy and Space (in Canada).