Summer is here - and Rookie Blue Season 6 Episode 1 gave us a look at McSwarek facing a new challenge... Dov and Chloe going their separate ways ... and Duncan returning with a new partner. 
Below, TV Fanatics Christine Orlando, Allison Nichols, Elizabeth Harlow and Whitney Evans debate who could have placed the bomb in the evidence room, whether anyone is happy Duncan is back and if it was okay for Andy to walk away from Sam in "Open Windows."
Any guesses on who planted the bomb in the evidence room?
Allison: It sure looks like Juliet might have something to do with it. Marlo voiced her suspicion that a cop planted the bomb, we saw that shady scene with Juliet in the car. I don't trust Juliet.
Elizabeth: I've got no clue on that one, but Diaz's drug problems seem like a plausible connection.
Whitney: I'm with Allison on this one. Juliet is up to no good and she was sent there for a reason, so it could definitely have something to do with the bombing. 
Christine: I think Juliet is actually from Internal Affairs or something similar and is conducting an outside investigation. I have absolutely no idea who planted the bomb but I look forward to finding out. 
Would you like to see Dov and Chloe get back together or should they move on?
Allison: Back together! They were adorable. I don't want it to happen immediately though. They both have to work things out. Obviously, the first step is actually talking to each other. They haven't gotten there yet.
Elizabeth: Maybe down the road, but I'm okay if they don't. Somebody other than Oliver needs to date outside of work. 
Whitney: I'm good either way, but if they do decide to get back together I hope it happens organically. I hope they just get back to being friends and then realizing that the love is still there. 
Christine: I think Dov and Chloe are perfect for one another but I agree that they have issues to work out and that's going to take time.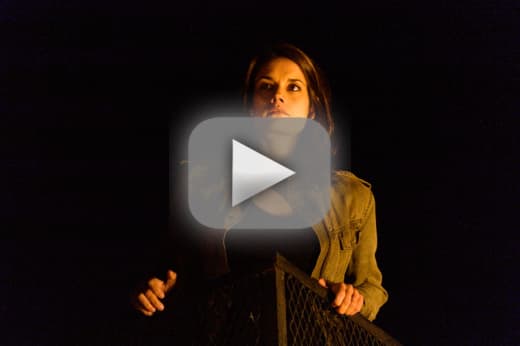 Andy walked away from Sam when he told her Marlo was pregnant. Should she have stayed?
Allison: Probably, but it wasn't surprising that Andy's gut instinct was to run away. The two of them need to have a chat to figure out how they are going to handle this new situation. Marlo is now going to be a part of their lives in a much bigger way, and Andy and Sam will both have to set up new boundaries.
Elizabeth: No. She needs time to process, just like Sam had. Sometimes you just need to be alone, and have the chance to think things through. 
Whitney: It's hard to really blame her for having that reaction. After all they've been through, it just seems like there is always an obstacle in their way. Although, it seems like they are in a really good place right now and if Sam can just give Andy the space to process everything, I think they will be able to navigate this situation together. 
Christine: I don't blame her for needing some space to process this. She definitely got sucker punched; they both did. Just when she thought they were going to get their happy ending, this huge obstacle gets thrown in their way. They can work this out but it's going to be complicated. 
Duncan's back. Are you happy to see him and what do you think about having him partnered with Nick.
Allison: Duncan is amusing. There's no denying that. I'm looking forward to seeing him interact more with other members of 15 and not just Andy. The scene where Nick tells Duncan to go and shave was hilarious. I think Nick and Duncan will make a fun team. 
Elizabeth: Duncan is too annoying and entitled for me to be happy he's back. Poor Nick. 
Whitney: I can't stand Duncan, so I'm not happy he's back. Nick does tend tend to bring out the good in people, so maybe there is hope for Duncan. I highly doubt it though. 
Christine:  Duncan annoys me but I'm happy he's paired with Nick. Nick won't take any of his immature crap. I loved it when he told Duncan to go wait in the car because he was acting like a child. 
Was there anything in "Open Windows" that disappointed you?
Allison: Even though Traci was the intended target, there was more of a focus on how Andy was reacting to it. I would have liked to see more of a focus on Traci. 
Elizabeth: I'm amazed that the cops at the 15th still have such lax home security. Seriously, it's like the third or fourth time someone's been attacked in a home and the plot device is worn out. 
Whitney: Overall, I thought the episode was meh. There was a lot going on and it set up the season well, but it wasn't my favorite premiere. 
Christine: I wish we'd seen more of Steve and Traci together but other than that, I really enjoyed the episode. 
What was your favorite scene from this episode?
Allison: Chloe and Nick working out was hilarious. They are such a great pair, and I love seeing them on screen together. The idea that Nick trained with Chloe is ridiculously amusing.
Elizabeth: Any scene with shirtless Swarek is my favorite. 
Whitney: I loved the first Sam and Andy scene. I am a card carrying member of the Sandy/McSwarek team and it was nice to see them so happy. 
Christine: I loved Chloe telling Juliet everyone's stories at 15. It was so very Chloe and really funny. 
Don't forget to check back with TV Fanatic on Thursday night for our Rookie Blue Season 6 Episode 2 review!
C. Orlando is a TV Fanatic Staff Writer. Follow her on Twitter.