How many surprises can one episode have?!
If Stitchers Season 1 Episode 2 is any indication of what to expect this season, then we are in for one thrilling ride filled with a lot of twists and turns. I'm still trying to catch my breath after all the surprises tonight – the hour definitely flew by quickly and it left us with a lot more questions to be answered later in the season. 
Let's dive right in and discuss tonight's episode, "Friends in Low Places."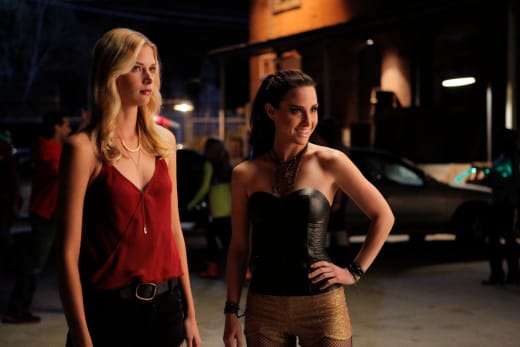 Watching Camille try to make amends with Kirsten was hilarious – from the bottle of wine to the homemade lasagna, Camille clearly went through a lot of trouble. Camille should have known it wasn't going to be easy to apologize to someone like Kirsten, who has no true concept of emotions – you have to remember, Kirsten isn't like everyone else.
Camille: I'm trying to say, I'm sorry.
Kirsten: [clearly confused] This is what sorry looks like?
Camille: Yeah.
You have to appreciate how gung-ho Kirsten is to dive right into the stitcher case without thinking of the possible consequences. Hopefully Cameron can figure out that Kirsten, of all people, can touch her subjects while stitched in their memories – I imagine it will eventually play a part in the story of finding Ed's killer.
Of course Cameron and Kirsten's plan of going into Ed's mind would be put on hold so they could investigate the death of a young woman named Lisa Keller. You can't blame Kirsten for being mad about being taken off of Ed's case, but Maggie was right, if they can't get the drug off the streets, more people will die, and it needs to take top priority. At least Cameron and Linus were smart enough not to get in the middle of Maggie and Kirsten's argument. 
Thank goodness the coroner was working for the stitcher program, because her nonchalance about a body going missing was a little on the scary side.
Kirsten gets major props for trying to fight through the drugs Lisa was on, but I would have lost it the moment the creepy monster faces started appearing. At least, before she had to bounce out, Kirsten was able to figure out the truth about Lisa – she hadn't overdosed, but was actually murdered – lovely little twist.
Can we please have more Linus? He was not featured enough on Stichers Season 1 Episode 1, but tonight he was on fire with the one liners and jokes. The banter between Linus and Cameron was exceptionally fun to watch. Who else loved Camille's reaction to meeting Linus at the rave?
Even though Kirsten says she doesn't want to be a part of their team, she needs to trust these people and stop trying to pull one over on them. Cameron, in my opinion, has shown he can be trusted, and I felt terrible for him when Kirsten put him and the team down – at least she made an awkward attempt at apologizing to him. 
Kirsten: How do I do this? Say I'm sorry [extends hand] we shake hands?
Cameron: [laughing] Oh! You really don't know how to apologize, do you?
Kirsten: No. It's really not one of my skills.
Who else was shocked to learn Camille has been spying on Kirsten? I truly wasn't expecting her to be a part of the program for the last year, and I now have a better understanding of why Kirsten feels like she can't trust people – even her own roommate was spying on her. 
I'm so happy Detective Fisher is officially part of the stitcher program – thanks to some convincing from Maggie. Maggie's right about not being able to keep her team from doing field work, and they need someone in the LAPD on their side who can keep on eye on them and possibly keep them from getting into any trouble. 
Hey Fisher! Welcome to the stitchers program.

Kirsten
In the end, Kirsten was stitched into Lisa's memories again and she was able to see what happened – Lisa was force-fed the drugs by the person putting on the rave, Raf. Detective Fisher was able to put together a search warrant and raid Raf's place and save a girl, Denise, in the process. In a depressing turn of events, Ed's mind diminished before Kirsten could be stitched in, and Maggie was able to perfectly sum up the stitcher program to prove to Kirsten, and her team, why they're important. 
[projecting a photo of Lisa Keller] Look at her because I need you to understand, all of you, what you did here today, where would Denise be without the stitchers program? Kirsten, you gave Lisa Keller back her voice, even if only for a short time, to finish what she started. You know those monsters that you saw in her memory? Well, there are monsters everywhere and with this technology, we can stop them.

Maggie
Who else is ready to hear what exactly happened to Marta? It was such a tease having Cameron go into Marta's hospital room, replace the flowers and have a small flashback to her, seemingly, having a seizure.
What did you think of "Friends in Low Places"? What secrets do you think Ed was keeping?
You can catch up on Stitchers anytime. Go watch Stitchers online now via TV Fanatic and come back to let us know what you think.
Samantha McAllister was a staff writer for TV Fanatic. She retired in November 2018.