Supernatural Season 10 Report Card: Grade It!

Sean McKenna at .
The Mark of Cain was at the center of Supernatural Season 10 as Dean attempted to deal with it and Sam tried to get rid of it. That and the brothers trying to work together through it all.
Demon Dean and the return of Cain were some positive highlights, while the lack of interesting storylines for favorites Castiel and Crowley was disappointing. And the absence of a major big bad (sorry, Rowena) was especially noticeable.
And while there seemed to be more mediocre case of the week episodes than usual, when Supernatural was on, it was on like that joyous roar of the Impala, reminding us just exactly why we love this show. It also is extremely impressive that the series has passed 200 episodes and is looking to come back for Supernatural Season 11.
Who else is excited to see Sam and Dean working together and facing off against the Darkness?!?
But for now, grab a piece of pie and let's go over the tenth season in the latest TV Fanatic report card…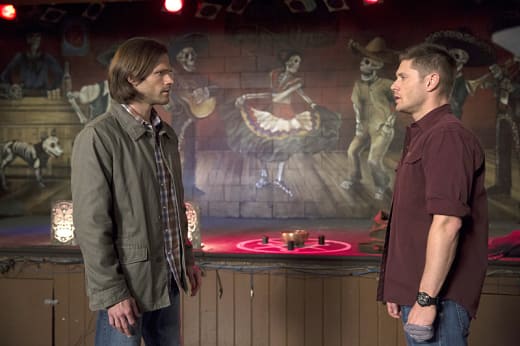 Best episode: I really enjoyed demon Dean in Supernatural Season 10 Episode 1, Supernatural Season 10 Episode 2, and Supernatural Season 10 Episode 3, and Supernatural Season 10 Episode 5 was a solid 200th episode.
But it was Supernatural Season 10 Episode 22 that proved to be a riveting and engrossing hour as Dean went on a Stein rampage and Sam attempted to kill Crowley. I cared about Cyrus Styne and was worried during the Castiel and Dean struggle. This was an edge-of-your-seat hour with fantastic acting and pacing that was the perfect lead-in to the finale.
Worst episode: There's always going to be some less than stellar episodes, it happens, but I was bored by Supernatural Season 10 Episode 16. There was way too much backstory on a ghost I didn't care about at all, and then there was plenty of time spent on trying to make Rowena turn into some big bad. Plus, Sam and Dean seemed disinterested in the case themselves. This was not an hour I'd be clamboring to rewatch again.
Best new character: I was intrigued by Cole's appearance in Supernatural Season 10 Episode 1. He wasn't a bad guy, he wasn't even initially aware of monsters, etc., and he was a dangerous force out for revenge against Dean. We not only got to learn more about him, but he began to learn more about Sam and Dean, even coming to help them out later on. He was definitely a positive addition to the series and I'd be interested in seeing him again.
Worst new character: Rowena was introduced at the very end of Supernatural Season 10 Episode 3, and there was some exciting mystery and menace surrounding her character. Unfortunately, the more we got of her, the less I wanted to see her. She never became a big bad like I (or probably even the writers) were hoping. Instead, she seemed like an over the top character stuck annoying Crowley and not doing much else.
Her escape in Supernatural Season 10 Episode 23 means we'll be seeing more of her, but I'm just not sure another season will help make her that scary villain in the end. But I'm always hopeful for the best!
Most surprising song played during an episode: "There was a Taylor Swift song on the bus that I hopped to the motel, and, uh, I liked it Sam. I liked it a lot."
Supernatural delivers some great rock songs, and I'm always looking forward to when "Carry on Wayward Son" starts, but I never thought I'd hear Taylor Swift on the show. Yet there was something fun about the way "Shake It Off" was used on Supernatural Season 10 Episode 12, and it was a humorous way to cap off a standout episode.
Hopes for Season 11: With the Mark of Cain gone and the brothers choosing family in Supernatural Season 10 Episode 23, I'm really hoping to see Sam and Dean working together as a team. I'm sure there will be some tiffs here and there, but it'd be great to see them on a far more unified front this time, especially when it comes to fighting the supernatural and even more so the Darkness.
I'm really hoping the Darkness proves to be an exciting and formidable foe. And if the Darkness gets a human form, I'm hoping its a little different than just some guys in suits. There's a lot of possibilities and directions this story could go, and really, it's exciting to be getting a new big bad.
While Supernatural Season 10 was a fair season, I'm hoping the upswing of the last episodes carries over into Supernatural Season 11. I want to see that Supernatural spark again. If anything, I'm just hoping the next season feels like it's got a direction and destination in its story, some more consistency, and an exciting and stakes filled journey for both Sam and Dean.
Overall grade: C+
Your turn! What did you think of Supernatural Season 10?


Sean McKenna was a TV Fanatic Staff Writer. He retired in May of 2017. Follow him on Twitter.