The Astronaut Wives Club feels a bit like Mad Men meets Desperate Housewives, and that's a combination I didn't realize how much I needed in my life until right now.
On The Astronaut Wives Club Season 1 Episode 1, we are introduced the seven men who have been chosen for NASA's Mercury Program. But more importantly, we are introduced to the women who support them.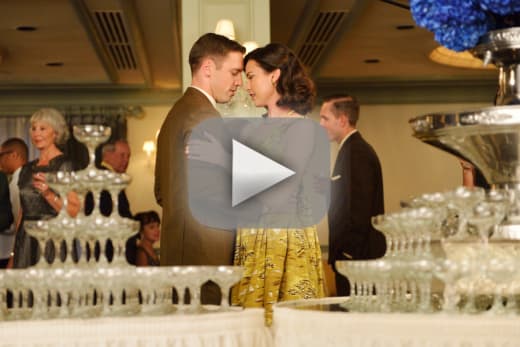 These women aren't just dealing with being separated from their husbands as they go off to space or the fear that overcomes them as their husbands risk their lives. They're struggling to be viewed as more than just "housewives" as they are all forced together, despite their wildly different personalities and values.
I'm about to be forced into bridge and bake-sales with a bunch of wives. Hard to say who's facing the bigger challenge.

Louise
While some fit nicely into the idea of the traditional housewife, others challenge that notion right from the start. Still, they all play the part when Life Magazine offers them a ton of money in exchange for their stories. Heck, they'll even wear the costume.
Louise is the first wife we meet, and though she is competitive and standoffish, I can't help but root for her (and by extension, her husband, Alan). I'm intrigued by her pride. When she catches Alan with another woman, she confronts him later, upset mostly because he has humiliated her in public.
Later, as she watches her husband launched into outer space with only the reporter by her side, we see her completely broken in fear. When the moment is over, she tells the reporter that no one can ever know she was scared. Instead, she composes herself, steps outside, and puts on a brave face.
Each of the women, in fact, have to put a brave face in their own way. They have agreed to be in the public eye during what will be one of the most emotional times of their lives. Despite the fact that their situation is unique, this is a story we can all relate to in some way.
It's about the importance of forming a community and accepting help from other people when you need it. It's about overcoming fear and the power of the media. It's about how we worry too often about what other people think, and what we look like in the public eye. It's about gender roles and stereotypes, and all the ways those things have improved over the years (and the ways they haven't).
More importantly, this is a story that is grounded in history. The characters are based on real people with real struggles, and the story is based on NASA's Mercury Program and the original seven astronauts to be a part of it. The show even goes so far as to include some original footage.
There's an emotional power to this show, and I can't wait to see where it takes us in the coming episodes. The Astronaut Wives Season 1 Episode 2 airs next Thursday, and is titled, "Protocol."
What did you think of the first episode of The Astronaut Wives Club? Share your thoughts in the comments below!
Need to see the premiere again? You can always watch The Astronaut Wives Club online right here via TV Fanatic!
Ashley Bissette Sumerel was a staff writer for TV Fanatic. She retired in September 2017. Follow her on Twitter and on Google+.