I can't tell who is worse at watching children: Henry's grandmother or Lena.
In The Whispers Season 1 Episode 4, Minx shows up unannounced at Henry's house to give him a top secret treasure hunt from Drill. Okay, why couldn't Drill just tell Henry himself? He's super lazy, that Drill. At least he knew that Minx was at Henry's, which is better than Lena and Henry's grandmother could say.
Seriously though, the grandmother didn't notice that Minx somehow waltzed into the house, and then she couldn't hear Henry talking when he was just in the other room? She should not be allowed to watch Henry. She slacked hardcore in the parenting, or well grandparenting, department. Then again, Lena didn't even realize Minx had left the house and somehow gotten all the way to Henry's. I worry about these children.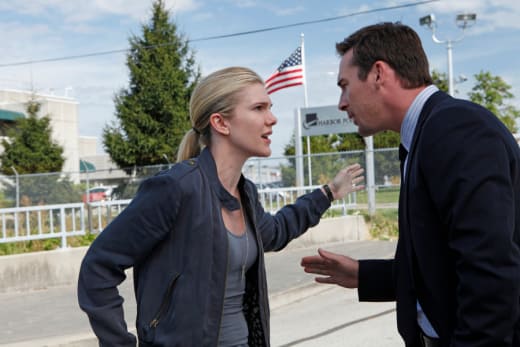 It's a nuclear power plant party! While it was a little difficult to understand the mechanics of what was going on at the plant, the gist is that it was going to overheat and have a nuclear meltdown. Watching Wes, Claire, and Jessup run around trying to figure out what was going on was not all that entertaining. For most of it, they were in that truck just talking. 
Also, they were still operating under the assumption that Sean is Drill. He's not. The downside of the viewers knowing this is that we spend the entire episode waiting for everyone to catch on to the fact that Sean and Drill are different people. We want answers too, and we won't get them until everyone realizes that Sean is on the same side as the FBI and DOD. He just has inside information courtesy of the lights.
Sean's body language and reaction when Henry hugged him was just perfection. He was so confused as to why there was a tiny child clinging to him, and then Claire runs in and pulls him down into a family hug. Sean did not ask for these strange people to hug him. I swear, Sean Bennigan is the best thing about this show.
Claire: Henry, he's all I have left.
Wes: Not all.
There was romance! Wes and Claire had a "I can't lose you" moment, followed by Wes thinking that he had lost her. Aside from referencing their past affair, we haven't seen much of them being anything but professional to one another. It was great seeing that they still have feelings for one another. Honestly, they seem like the cutest couple on the show. Lena and Wes just fight all the time, and, well, Sean doesn't remember who he is so it's hard to root for him and Claire. Do you think Claire and Wes make a cute couple?
Not too much was revealed in this episode. Henry let slip that he can hear again when he was yelling at the guys in hazmat suits to stop hurting his dad. Minx shared that Sean isn't Drill. Oh, and the nuclear power plant erupted, but all the smoke and whatever else came out during the explosion was sucked right out of the sky like it went to another universe or something. It was really weird, and honestly that's the biggest thing that happened Drill-wise in this episode, and we don't even know what it means. What happens now that this game has been won?
What did you think of the episode? Leave me your thoughts in a comment below. Don't forget you can watch The Whispers online anytime via TV Fanatic.
Allison Nichols is a staff writer for TV Fanatic. Follow her on Twitter and on Google+.