Is Barry ever going to make it home? 
After watching Tyrant Season 2 Episode 3, it seems he may not be that motivated. While he gets in touch with his roots, Molly explores her faith back in California. 
Back in Abbudin, the royal family is on PR duty, spinning the story of the attacks place responsibility for the gassing with Rashid and his movement.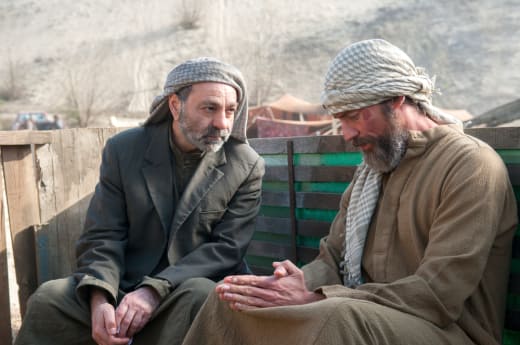 Apparently, Jamal didn't order the chemical attack. After his behavior in Tyrant Season 2 Episode 2, it's understandable that Tariq thought that using the gas was an implicit order. I'm not sure if Jamal is more upset about the death caused, Tariq disobeying him, or that his public image has been badly tarnished.
While Jamal sits in front of cameras and lies to the world, Leila is dealing with the fall out of the bombing. She may have been concerned about the boy that she visited in the hospital, but she was outraged that her vision for Abbudin was effectively destroyed.
I wanted to believe you. I wanted us to be different. Not like your father. This is not how it was supposed to be for us. I wanted to be loved by my people. I wanted to be a mother of a country. Now look what you did! We can never make it right, we can never put it back, Jamal.

Leila
Jamal may have tried to lay the blame for the chemical attack at Rashid's door, but the fact remains that he ordered an indiscriminate attack on his people. A retaliation carried out by the military is not something the world will easily forget. 
Unfortunately, he's surrounded by yes men, including his own son. Poor Ahmed just wants Daddy's approval, but he never does anything right. Even when he tries to suck up, it's at the wrong time. That haircut is an improvement, though.
Ahmed: If you had gassed them, just so you know, I would have said it was the right thing to do. It's what I would have done. After what they did yesterday, I think they deserved it.
Jamal: We don't gloat, Ahmed. Not over the death of innocents. Not even when they are the enemy.

While the president's advisors may be on board, the people of Abbudin are not buying what Jamal is selling. Ahmos, the Bedouin's father, helps Barry to evade arrest when he finds out that he was jailed for opposing Jamal's regime. 
His offer for Barry of prolonged sanctuary was kindly meant, but I can't get behind Barry staying. For one thing, he could be of more use to the opposition movement from the outside. And there are easy ways to avoid endangering his family without giving up – use the phone from Lebanon and call John Tucker. 
The formerly peaceful student activists are also stirred up by the bombing. Halima may have been about non-violent protest before, but losing her sister has rocked her foundation. Her attack on Leila was my favorite scene. 
How can you be sorry and guilty at the same time? Tell me, because I am curious. Or does repeating a lie often enough make it the truth, even to you?

Halima
The only people unconcerned by the gas attacks in Ma'an are the American Al-Fayeeds. Now, I understand that there is a lot to get in, and that Molly's grieving, but this is international news, news which is directly connected with their family. It seems weird that they're not talking about it.
I can understand Molly turning to the old comfort of faith while she's grieving, but I find the implication that Barry prevented her from her faith puzzling. Their relationship in Tryant Season 1 seemed like it was skewed towards Molly's background and preferences as he had cut ties with his past.
The plot exploring her faith seems set up mainly as a juxtaposition to Barry's journey, leading to the couple's inevitable separation, with a secondary purpose of introducing a new lover. Speaking of Jimmy, I hope we see more of him soon, even if I don't support the budding romance.
Sammy is dealing with his father's "death" by avoiding it. His claim that Barry didn't like him feels like another attempt to retcon Barry into a harder character than the pushover pediatrician we actually saw. Ultimately, Sammy's grief seems assuaged by the $100 million dollar payout. 
I hope that Sammy's inheritance comes with a wakeup call. It's hard to imagine this kid becoming a bigger entitled ass than he already is, but I can't see him progressing any other way. Molly may be feeling guilty that the victims of the attack aren't receiving the money, but Sam's out buying a fast car.
Emma was once again underused. She is (rightly) outraged that she won't receive anything from the trust, but that was all we saw of her. Maybe she's off angrily vlogging in her room or something, but I hope we see more of her soon.  
"Faith" continued to lay the foundation for a great season, and with Barry still hiding out in Ma'an, there's still more to come. Watch Tyrant online and share your thought on where things are headed. 
Elizabeth Harlow was a staff writer for TV Fanatic. She left the organization in October 2018.