Under the Dome Season Premiere Review: It's Time To Move On!
Paul Dailly at . Updated at .
It's time to move on. 
Under the Dome Season 3 Episode 1 & Under The Dome Season 3 Episode 2 was a solid double punch of this CBS drama series and has set the wheels in motion for a somewhat interesting new season. 
I'll admit, there were a lot of confusing moments in this two hour opener, but it kept me on the edge of my seat throughout so, what more could I ask for?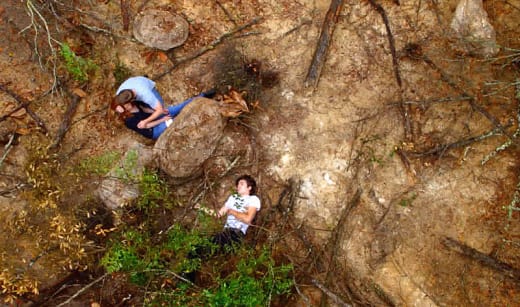 Melanie – a character I never expected to see on the show past Under The Dome Season 2 played a big role, and it looks like she is the puppet master keeping all of this together. She's in that cave under Chester's Mill manipulating what happened in the timeline we witnessed after the pink stars rose up around the dome and wiped it's existence. 
Yes, three seasons in and the dome is gone, but is this the timeline the show will roll ahead with? It doesn't seem that way. As much as I liked the events of the version of Chester's Mill that featured the memorial, it seemed pretty fake. 
I do think that the memories that the characters carry will continue back into the old timeline. Just look at Christine and Ava. They are both new characters who met the characters after the dome came down, so to be put back into the deep end with the other characters is a little crazy. 
Something wasn't quite right with Marg Helgenberger's Christine and it could be down to the fact she was being manipulated by Melanie. I'm intrigued to see how this all plays out. Things are going to be very weird with Barbie, Julia and Ava, considering that whole pregnancy plot. Who needs daytime soaps when we have this?
Both hours were packed with meaty clues, and one of the weirdest has got to be that the dude Barbie killed in Yemen keeps popping up as someone else in Chester's Mill. This has to bare some significance to the arc of the season. Everything happens for a reason on this show 
The most shocking development was when that beautiful memorial deleted Junior's name and just like magic, he returned to the land of the living. I really can't come to any logical conclusion about what is going on. It was confusing going between the separate timelines so hopefully the show has decided on one and sticks with it from here on out. 
In the memorial timeline, everyone appears to be moving on aside from Joe and Ben. Joe is still reeling from the death of Angie and can't quite come to terms with it, and he's also single. He and Norrie are no more. Anyone would struggle with the loss of a loved one, and I think Joe's character played most true to this. Pretty much all of the other characters lost someone in the dome, yet in this new world, they just brushed it aside and rolled on. 
All things considered, this was a solid, if unspectacular return for the show. There weren't a lot of questions that needed answered going into tonight's episodes, but now I have a list as long as my arm. Let's hope the show can retain this level of suspense for the remainder of the season. I'm hooked. 
Other tidbits from the opener:
Norrie has more chemistry with Hunter than she ever had with Joe. I approve. 
If Ben was brought out of his cocoon to be killed, why didn't Melanie bring Sam out of his? Did she not want him to die? Was she making him look more vulnerable so that Joe would feel sorry for him?
As if the show was killing Julia or Big Jim off. Never. 
Will the dome still be outside the cave when our survivors get out?
Remember watch Under the Dome online online, right here on TV Fanatic. Get caught up now!
What did you think of the opener? Did it reinvigorate the show? What's coming next? Hit the comments!
Note: Under The Dome Season 3 Episode 3 airs Thursday 2nd July at 10/9C on CBS.
Paul Dailly is the Associate Editor for TV Fanatic. Follow him on Twitter.