Only on The Real Housewives of New York City Season 7 Episode 12 could an exotic, tropical vacation look like a nightmare. 
Despite the beautiful surroundings, stunning view, private chef and gorgeous house, these ladies can't stop fighting.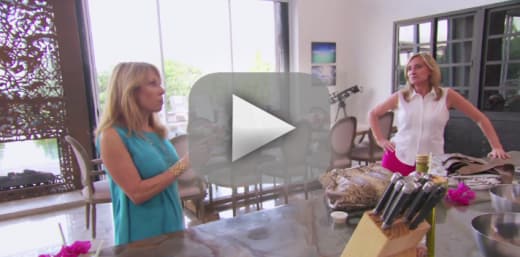 First Ramona and Sonja run through the house in a attempt to grab the best room for themselves, then once they've staked their claim they realize they don't have a bathtub. Sonja claims that she and Ramona are scary in a shower. We don't even want to imagine.
Then Ramona parades around in a neon yellow bikini and steals Carole's stripper heels to work out in. Worst of all, she refuses to return the shoes. 
Even though Ramona manages to get on Bethenny's last nerve, it's Sonja who breaks her. When Sonja refuses to stop talking in circles, Ms. Frankel finally hits her breaking point and yells for Ms. Morgan to "Shut the f**k up!" 
Can their friendship survive the drama of Turks and Caicos? Was Sonja already to drunk to comprehend what Bethenny was saying?
You won't want to miss a moment of the tears or the drama. You can watch The Real Housewives of New York City online right here at TV Fanatic. 
C. Orlando is a TV Fanatic Staff Writer. Follow her on Twitter.