Something strange is happening to animals across the globe in Zoo Season 1 Episode 1.
In Botswana, lions cleverly invade a camp, kill its leader and literally cover their tracks. In Los Angeles, lions are escaping and ending up in alleys killing innocent jerks who were just trying to pee. Dozens of cats have left their homes and are congregating up in the trees.
So what's causing the sudden shift in animal behavior? That's the mystery that begins to unfold in "First Blood," the inaugural episode of Zoo, based on the best selling novel of the same title by James Patterson and Michael Ledwidge.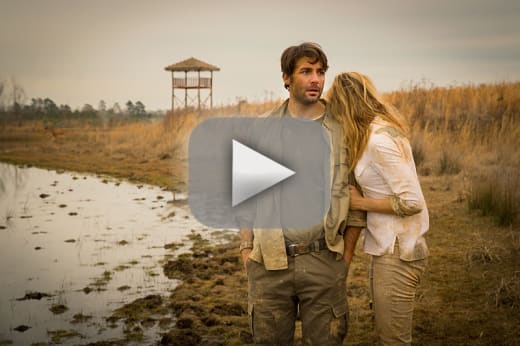 For centuries, mankind has been the dominant species. We've domesticated animals, locked them up, killed them for sport. But what if all across the globe, the animals decided, 'no more?' What if they finally decided to fight back?

Robert Oz
James Wolk stars as Jackson Oz, the most handsome zoologist I've ever seen. Jackson (and Wolk) is likeable nearly immediately. He stops a hunter from killing a rhino by holding up an old-school boom box over his head blasting James Brown's, Get On Up in a nod to Say Anything.
Jackson has left the comforts of Boston to lead safaris in Africa, and is following in the footsteps of his father, Robert Oz, also a zoologist. The younger Oz is more practical about animal behavior, unlike the "gibberish" ways that Robert spouted on his great manifesto tapes, which seem to be key to unlocking the mystery.
Hunter: I paid two hundred grand for that liscence.
Jackson: Well, I paid 9 dollars for this hat. Seems like we both got ripped off.
Kristen Connolly also stars as reporter Jamie Campbell, who's having the worst day ever; fired from her job at the newspaper, just broke up with her boyfriend, and to top it all off, she's got a really ugly genie tattoo.
Jamie is taking up her own investigation into what happened to the lions who escaped the zoo. She insists that the reason for the sudden personality change is linked to food now being supplied by Reiden Global, the big bad biotech corporation.
I'm not sure what to make of Jamie. I want to like her, but she just doesn't have enough personality yet. I caught her brief mention of something happening in Folsom with the Reiden company...I'm hoping she gets more interesting as that story is uncovered.
More people die choking on hot dogs than lion attacks.

Jamie
Mitch Morgan (Billy Burke) is an animal pathologist, or as he describes it, an animal coroner for animals that aren't actually dead. Mitch is Zoo's comic relief, using sarcasm to express his preference of animals over people. Billy Burke's deadpan line deliveries become the highlight of every scene he is in. 
Mitch solves the mystery of the missing cats, which is a bit funny. He leaves after meeting a beautiful, intelligent woman, and all he can keep thinking about is that she mentioned offhandedly that some cats were missing? It bothered him so much he needed to look for them? Mitch Morgan, you are an interesting man, and I love you already.
I like people. I just prefer it when they're not around.

Mitch
Also in Africa with Jackson is Abraham (Nonso Anozie,) Jackson's confidant and friend. I really loved the relationship between Jackson and Abraham, as they seem to have a solid bond. Abraham looks out for Jackson, as we saw with his special hangover juice and the way he came to Jackson's aid with the hunter. People are intimidated by Abe.
Meanwhile Chloe (Nora Arnezeder,) had more of a "damsel in distress" role in the premiere. I'm intrigued by her, and I hope her role in the series becomes more substantial than just standing behind Jackson, needing his protection from lions.
Speaking of which, can we talk about the stare down between Jackson and the lion? That lion roared in his face for what felt like a solid minute. How did he not empty his bowels? Did he eat big bad global's food? (Mitch did say it might cause constipation.) Jackson must be the most bad-ass zoologist who ever lived.
Zoo isn't preaching an animal conservation message...yet, though I can see where they may go that route; Mitch alludes to caged animals being the real victims, to which Jamie replies, "Oh, so you're one of those people."
I must admit, that with so many other apocalypse-type shows on television, it's fun to watch one that is somewhat based in reality. I can believe that animals have the ability to overtake man, under the right circumstances. 
Free will is what separates us from the animals.

Chloe
However, while certainly apocalyptic, Zoo is a mystery, and it's a mystery that I want to solve. The fact the episode ended and I was still trying to figure out the cats in the trees bodes well for my enjoyment of the series. 
I've already got some theories in my head that involve technology, and the way it impacts our animals, both domestic and wild. It's got to be something with the ability to be global, right?
I'm also buying into Jamie's theory about the food. Big bad corporations are making food that is giving animals reasoning skills... that sounds like a likely scenario.
Additionally, I'm looking forward to seeing how our cast of characters come together. I feel like Mitch would love to watch Robert's manifesto tapes, and that Jackson's and Jamie's stories are meant to be intertwined. Perhaps Jamie's distaste for big bad global is linked to Jackson's distaste for Boston?
Bottom line: is Zoo the best show you'll ever see? Probably not. It is, however, the perfect summer adventure show, especially in a summer where dinosaurs reign supreme at the box office, and some people are beginning to have superhero fatigue. We want to see fun animal thrillers, and Zoo is just that. I'm ready for, and welcoming, a summer full of mysterious animal adventure with Zoo.
Stray thoughts:
Is the "French chick" from the video Chloe? 
I never want Abraham to make me a hangover juice. Baboon dung cannot be meant for consumption.
I desperately want Jackson to ask someone how their day is, so that they can respond, "NOT GREAT, OZ!" (I miss you, Bob Benson.)
Pettifoggery (verb): to carry on a petty, shifty, or unethical law business. (I had to look it up too, Jamie.) 
How many firemen would it take to get that many cats out of a tree?
I'm disappointed the Reid Scott's Ethan is out already. Maybe those crazy kids can work it out. He should watch Say Anything. That would probably help.
I get that the cats in the tree are strange, but is the idea of lions attacking humans, especially in the wild, really THAT strange? 
Missed it, or want to watch again? Remember to watch Zoo online right here at TV Fanatic! 
What did you think of "First Blood?" Are you intrigued? Why do you think the animals are attacking? Comment and let us know!