Worst wedding parties ever!
On Beauty and the Beast Season 3 Episode 6, they don't get any closer to finding out who's behind the experiments, and it's becoming increasingly frustrating.
While it takes time to unravel a mystery, can they at least throw us a bone? Thankfully it wasn't a complete letdown, and there was some closure for our characters regarding their families; but still, let's get to the point already!
Let's not waste anymore time and discuss, "Chasing Ghosts."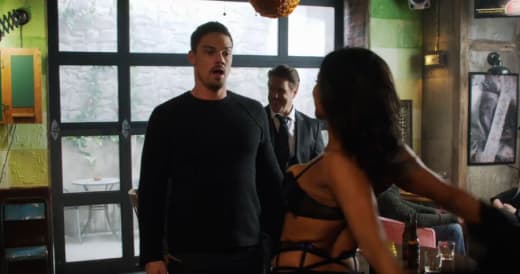 How the heck had Vincent still not called up his cousins? A simple phone call telling them he's alive probably would have sufficed. Vincent and Cat should just forego a wedding altogether and elope – the whole wedding planning thing is going downhill pretty quickly.
It seems as though both Cat and Vincent would be more comfortable just getting the wedding over with already.
Tess's, "they're hunting beasts," argument really wasn't the best. While Cat's obsession is beyond irritating, she wanted to make sure Vincent was going to be OK. Bob and Carol could have easily contacted someone, which they did, and told the person about Vincent being a beast.
Cat had every right to be concerned and over protective. 
Cat: I cannot justify going for tea with my mom's sisters when somebodies hunting Vincent.
Tess: They're not hunting Vincent, they're hunting beasts. They don't even know that he is one.
What a crazy twist to have the serum go airborne. It makes perfect sense for the person doing these experiments to go up to the next level and release it. Adding in the whole beast DNA to make these humans even more enhanced was just icing on the cake. 
Cat not wanting anything to do with her aunts was so odd. She has harped on and on about family being important, and even told Vincent to contact his own family, but she wanted nothing to do with her aunts.
It's understandable why she'd be a little standoffish because of the secrets her mom kept, but her aunts had absolutely no knowledge of what her mom was doing, and they didn't deserve such hostile behavior. 
You have enough secrets Cat, being mad at your mom shouldn't be one of them.

Tess
Hank had no right to disrespect Vincent's brother's. Vincent gets a lot of credit for not going full on beast on Hank – he deserved to be punched right in the face for everything he was saying. Vincent further proved how a real man should act by taking the high road and letting Hank off easy.
It was clear from the start Hank was only around to further his career and could care less about Vincent. This probably won't be the last we see of Hank, and he probably has something to do with the experiments. 
Speaking of Vincent, he was right in telling Cat to go to her wedding shower. There was absolutely nothing she could have done to help with the outbreak. Granted, Cat totally ruined her party by saying those hurtful things about her mom, but she needed to get it all out; though she probably could have come up with a better place to release all that anger. 
Show of hands, who else figured Vincent and Cat were being lured into a trap? The moment Cat assumed the whole outbreak was a trap, you knew she was right.
Of course the messenger would have a camera built into his helmet and be transmitting footage of Vincent and Cat to some undisclosed location. No big surprise, the camera couldn't be traced to anyone. It's high time we find out who is behind all of this.
In the end, they were able to stop the outbreak. Cat finally opened the box her father gave her from her mother, which included a recorded message of her mother asking for forgiveness, and Cat finally let go of her anger. Kristin Kreuk put in an amazing performance and you could feel Cat's pain, anger and eventually forgiveness – beautiful job.
What did you think of, "Chasing Ghosts"? Who do you think is behind the experiments? Do you think Cat and Vincent should just go ahead and elope?
If you missed tonight's episode, you're in luck! You can watch Beauty and the Beast online now via TV Fanatic and catch up on the entire season.
Next week on Beauty and the Beast Season 3 Episode 7, the man who attacked Vincent and Cat is an unstoppable force who can't even be harmed by bullets. To get the assassin out of town, Vincent and Cat pretend like they're going out of town to elope, but things don't go as planned. Will they be able to take him down?
Meanwhile, JT gets a lead on who may be behind the experiments and tries to get Tess involved in tracking them down.
Samantha McAllister is a staff writer for TV Fanatic. Follow her on Twitter.