Complications Season 1 Episode 4 Review: Immune Response

Christine Orlando at . Updated at .
The infection of violence spread deeper on Complications Season 1 Episode 4 as John found himself shadowing Darius as he beat on one of his dealers to get money to protect Antoine. 
Despite his outward calmness, Dr. John Ellison was a taut wire ready to snap, and it was Sam's boss and Darius who got stung.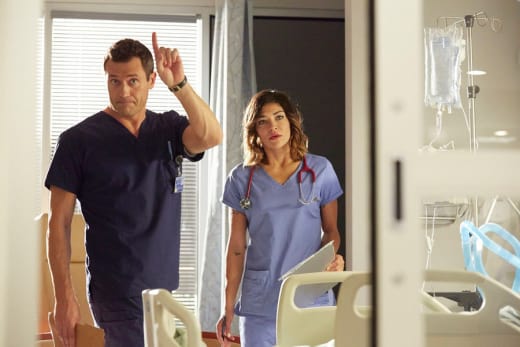 I couldn't blame John for going off on Sam's boss, Keith. Yes, I'm sure the article was interesting, but is it really a news flash that violence breeds violence? Keith's insistence that a young boy affected by violence would eventually become violent appeared to be bigotry cloaked in science, and John was right to call him out on it.
It's easy to judge cause and effect from a dinner party where the people involved can remain abstract. John made sure that no one forgot that the infection they were talking about was an 11-year-old boy who, despite his circumstances, deserved a chance at a future. 
Darius also went toe to toe with John. Their relationship is a power struggle with the scales constantly tipping from one side to the other. When John demanded money to keep Antoine safe, Darius made sure to show him who was calling the shots by forcing him to come along and see how business was done. When Darius almost beat one of his dealer's to death, John stood up and made him stop. Even when Darius threatened him, John didn't back down in this Complications quote…
You want a doctor, don't be surprised when I act like one.

John
Back home, little did John know that his marriage also hung in the balance. I almost laughed when Kyle told Sam he wanted to go back to being friends because that's never going to happen. When he announced that he loved her, it came as no surprise as it's written all over him. I was ever so grateful when Sam chose to walk away and fight for her marriage. 
Once again, Gretchen proved to be totally badass, bordering on stupid. When a normal person sees that their house has been broken in to, they call the police. Not Gretchen, she grabs a tire iron from her trunk and heads inside. 
The moment the doctor told her they needed $25k for Antoine's care, I knew Gretchen would tell John $35k. Gretchen does whatever is necessary to get the desired result. I'm not sure if it was perverse or poetic that she ended up using a drug dealer's money to get her sister into drug rehab. 
Just as everything appeared to finally find a balance with Bridget backing off at the hospital, Antoine being transferred and John and Sam reconnecting, it should have come as no surprise that all hell was about to break loose. The moment Maurice noticed that guy by the dumpsters, I knew what was coming. The only real question now is how many people will die with what comes next.
Check back next week for our review of Complications Season 1 Episode 5, "Outbreak" and if you just can't wait, you can watch Complications online here at TV Fanatic.
C. Orlando is a TV Fanatic Staff Writer. Follow her on Twitter.