Well... is he or isn't he?!?
This was the main question thrown at Michael Lombardo - President of HBO Programming - on Thursday at the Television Critics Association summer press tour in Beverly Hills.
It is a reference, of course, to Jon Snow and the final scene of Game of Thrones Season 5.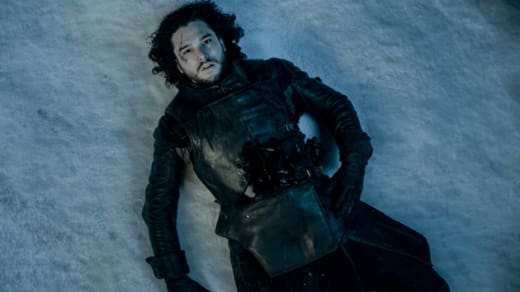 Has the hero really taken his final breath?
"He be dead. Yes," Lombardo replied. "From everything I've seen, heard and read, Jon Snow is dead."
Of course, with most fans believing Snow will be resurrected (by Melisandre?) in some form, a better question might be this:
Will he remain dead?
Lombardo also touched upon a potential Game of Thrones end date.
It has been assumed for awhile, mainly because showrunners David Benioff and D.B. Weiss has openly stated it as their intention, that the series would wrap up after Season 7.
HOWEVER...
"[The producers are] feeling like there's probably two more years after six," Lombardo said. "I would love for them to change their minds, but that's what we're looking at right now."
In conclusion, Lombardo also teased a potential follow-up series.
"I would be open to anything [the producers] want to do. There's enormous storytelling to be mined in a prequel."
Matt Richenthal is the Editor in Chief of TV Fanatic. Follow him on Twitter and on Google+.